Laser Grade Plano-Convex Lenses have high damage threshold.
Press Release Summary: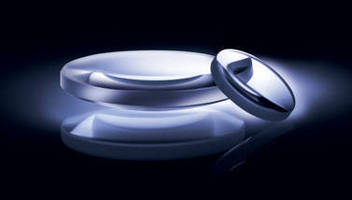 TECHSPEC Laser Grade Plano-Convex (PCX) Lenses feature positive focal length, making them suitable for collecting/focusing light where detectors, emitters, fiber optics, and lasers are used. Designed for use in high-energy laser applications, lenses include precision-fused silica substrates. They are available uncoated in 12 mm dia by 18-50 mm FL as well as 25 mm dia by 38-250 mm FL sizes. Custom laser line coatings between 193 and 2,200 nm are also available.
---
Original Press Release:

TECHSPECR Laser Grade Plano-Convex (PCX) Lenses



Barrington, N.J. - Edmund Optics® (EO), the premier provider of optical components, introduces its new TECHSPEC Laser Grade Plano-Convex (PCX) Lenses. These high performance lenses have a positive focal length, making them ideally suited for collecting and focusing light. They are perfect for a wide variety of applications with detectors, emitters, fiber optics and lasers.

Lenses feature fused silica substrates

Edmund Optics' TECHSPEC Laser Grade Plano-Convex (PCX) Lenses are specifically designed for use in high energy laser applications and provide a high damage threshold. The lenses feature precision fused silica substrates and offer improved surface quality and reduced irregularity compared to TECHSPEC UV Fused Silica PCX Lenses.

Custom laser line coatings between 193 and 2200 nm

Laser Grade Plano-Convex (PCX) Lenses are available, uncoated, in 12 mm diameter X 18 mm FL, 25 mm FL, 36 mm FL and 50 mm FL as well as in 25 mm diameter sizes x 38 mm FL, 50 mm FL, 75 mm FL, 100 mm FL, 150 mm FL and 250 mm FL. Custom laser line coatings between 193 nm and 2200 nm are available to suit a wide variety of user applications. All sizes are in-stock and available for immediate delivery for fast turnaround and excellent value.

About EO:

Edmund Optics® (EO) is a leading producer of optics, imaging, and photonics technology for R&D, electronics, semiconductor, pharmaceutical, biomedical, and military markets around the globe. EO is the world's largest supplier of off-the-shelf optical components. Customers can purchase items by contacting EO at (800) 363-1992, via the new interactive catalog, the website at www.edmundoptics.com, or requesting their print catalog.

Company Contact:

Kirsten Bjork-Jones

Director Global Marketing Communications

Edmund Optics®, Inc.

101 East Gloucester Pike

Barrington, NJ 08007 U.S.A.

Phone: 1-800-363-1992

Fax: 1-856-573-6295

email: kbjork-jones@edmundoptics.com

More from Machinery & Machining Tools