Large Clear Aperture Dual XY Gantry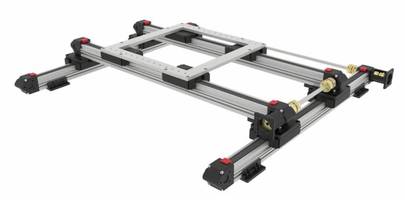 STROKE 300 x 300 mm
APERTURE 300 ... 300 mm
REPEATABILITY 50 micron
RESOLUTION 10 micron
SYNCHRONIZED GANTRY
The demand for accurate, robust, open-frame stages is met with IntelLIDrives dual-gantry design, large aperture stages that address the unique needs of scanning microscopy, wafer and printed circuit board inspection, automated assembly and wide range of specimens and samples scanning in many types of imaging techniques and applications.
The drive mechanism located on the side of the unit and offers a clear un-obstructed two axes aperture over complete XY stroke to enable light or objects to pass through the center of travel.
Precise fine positioning and control is easily achieved through the combination of a stable closed-loop control system and an associated joystick option.
These stages can be motorized with stepper motor or brush-less servo motors with encoders.
TO REQUEST ADDITIONAL INFORMATION: http://www.intellidrives.com/index.php?route=product/request
Contact:
Intellidrives, Inc.,
8510 Bustleton Ave.,
Philadelphia, PA 18966
More from Controls & Controllers