Laird Technologies to Attend Strategies in Light 2013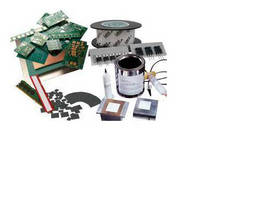 Company to Showcase Thermal Interface Materials

St. Louis, Missouri, USA - Laird Technologies, Inc., a global leader in the design and supply of customized performance-critical components and systems for advanced electronics and wireless products, today announced it will attend Strategies in Light 2013. The event will take place at the Santa Clara Convention Center in Santa Clara, California, February 12-14, 2013. Laird Technologies will exhibit at booth #617.

Laird Technologies will showcase Thermal Interface Materials, including items from the Tflex(TM), Tgard(TM), Tgrease(TM) and Tlam(TM) product lines. These solutions are ideal for the LED industry as they offer industry-leading thermal performance. As part of the Laird Performance Materials (LPM) division, these products provide critical protection to a variety of electronic devices in a wide range of industries, including the LED and Lighting markets.

"Laird Technologies is a global market leader when it comes to thermal interface materials," said Jane Lacy, Laird Technologies Product Manager. "Our products are well known and Strategies in Light 2013 provides us an opportunity to showcase these products to the LED and lighting industries."

Strategies in Light 2013 is the world's largest and longest-running educational and networking platform for the LED and lighting industries. It is a must-attend event for industry professionals with more than 4,600 attendees, from over 30 countries and more than 200 exhibiting companies. Strategies in Light 2013 is celebrating the 50th anniversary of the invention of LEDs with information sessions, networking and new business development opportunities.

As an industry leader in high-performance and cost-effective Thermal Management Solutions, Laird Technologies provides the knowledge, innovation, and resources to ensure exceptional thermal performance and customer satisfaction for applications in the medical, analytical, telecom, industrial, and consumer markets.

Contact Information

For additional information, visit www.lairdtech.com or contact us at:

Americas: +1-888-246-9050 option 2

Europe: +46-31-704-67-57

Asia: +86-755-2714-1166 x374

e-mail: [email protected]

About Laird Technologies, Inc.

Laird Technologies is a global technology company focused on providing components and solutions that protect electronic devices from electromagnetic interference and heat, and that enable connectivity through wireless applications and antenna systems.

Custom products are supplied to all sectors of the electronics industry including the handset, telecommunications, data transfer and information technology, automotive, aerospace, defense, consumer, medical, mining, railroad and industrial markets.

Laird Technologies, a unit of Laird PLC, employs over 9,000 employees in more than 46 facilities located in 16 countries.