KROHNE to Showcase Wide Range of Water and Wastewater Products at WEFTEC 2015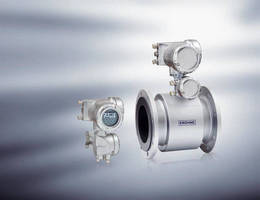 Peabody, MA –  KROHNE, Inc. will showcase a wide range of its industry-leading water and wastewater products, including its line of analytical sensors at WEFTEC 2015, Booth 3216. The 88th Annual Water Environment Federation Technical Exhibition and Conference will be held September 26th – 30th at McCormick Place in Chicago, Illinois. Visitors to the KROHNE booth will also be able see an innovative demonstration module featuring a Storm Water Collection system.



The fully functional Storm Water Collection module features the TIDALFLUX flow meter, KROHNE's latest innovation for measuring less than full pipe flows, as well as a number of automation and communication devices produced by Phoenix Contact.  The module's demonstration of a violent storm event features lighting, thunder and a torrential downpour. This is exactly the type of event that can cause storm water flows that exceed the influent capacity of a treatment facility. With TIDALFLUX, storm water may be measured and diverted to avoid a dangerous overflow situation at the plant.



The TIDALFLUX 2300 is KROHNE's unique flow meter for partially filled pipes. The meter can measure flows in pipes between 10 and 100 percent full and its non-contact sensor is not affected by oils and fats floating on the surface. In addition, TIDALFLUX has a broad diameter range to fit pipes up to DN1600 or 64 inches, and has high chemical and abrasion resistance to provide exceptional durability.



Also on display at the booth will be the first family of 2-wire loop powered analytical sensors with integrated transmitter technology for direct connection of the sensors to process control systems. The sensors can be configured via a HART Handheld and calibrated offline via PACTware.



All sensors are digital and can be calibrated or recalibrated offline in a laboratory under controlled conditions. For offline calibration, the sensor can be connected directly to a PC running the same FDT/DTM frame applications (i.e. PACTware) as applied in common asset management systems, using an USB interface cable for bi-directional HART 7 communication and power supply. This is a significant improvement over other analog analytical sensors that have to be calibrated on site together with the transmitter, even if installed at remote or difficult-to-reach measuring points, which can also cause sensor calibration to trigger false values in the process control system.



KROHNE's full product line for use in the water and wastewater industry will also be featured at the booth, including the OPTIFLEX 2200 TDR, OPTIWAVE 5200 radar and OPTISOUND VU30 level meters; the ENVIROMAG and WATERFLUX mags; the unique OPTISONIC 6300 P portable clamp-on and OPTISONIC 7300 biogas ultrasonic flow meters; as well as a variety of temperarture and pressure offerings. KROHNE representatives will be available at the booth to discuss technology, products and applications in detail.



About KROHNE



KROHNE is a worldwide technological leader in the development, manufacture and distribution of accurate, reliable and cost-effective measuring instruments for the process industries. KROHNE focuses on forming partnerships with its customers to provide them with the most reliable and innovative solutions available in the marketplace. For more information about KROHNE's complete line of measuring instrumentation for the process industries, contact KROHNE at 1-800-FLOWING (978-535-6060 in MA); fax: 978-535-1720, email: info@KROHNE.com, Twitter, Facebook, or visit www.us.krohne.com.



More from Test & Measurement