Kontron HPEC Platform Chosen by Military Embedded Systems Magazine for Editor's Choice Award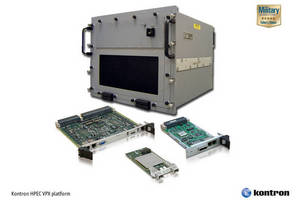 Kontron's HPEC super computer-like system matches military program needs for high-end processing

Poway, California - Kontron today announced that its high performance embedded computing (HPEC) platform was selected for an Editor's Choice Award by Military Embedded Systems Magazine. The Kontron 18 blade VPX-based HPEC platform was chosen by the editors for their April-May 2012 issue because of its ability to meet military programs' needs for high-end processing. This highly integrated HPEC platform was developed to supply an immense amount of power in a small footprint. Military Embedded Systems Magazine editors continually assess innovative new technologies and products as possible Editor's Choice award recipients.

"Thwarting the old paradigm of military programs sacrificing performance or facing a proprietary technology path, the Kontron HPEC platform delivers 1.44 Teraflops of compute density," on behalf of OpenSystems Media. "Described as a "supercomputer-like system" by the company, the DSP-suited HPEC platform comprises 18 of Kontron's VX6060 Core i7 2 GHz (or more) computing nodes including 8 GB DDR3 memory on each board, in addition to 36 tightly coupled processors within the HPEC platform. Several switched fabric interconnects are housed in the backplane. And the 19-inch footprint HPEC platform is suited to radar, SIGINT, sonar, and video processing needs of UAV or aircraft programs."

The Kontron HPEC Platform

Using the strengths of Kontron's substantial system and board-level platform expertise along with its experience in design and deployment of ruggedized systems for defense programs, the Kontron HPEC platform meets the needs of compute-intensive DSP-based systems. It is a VPX-based super computer-like system that accommodates up to 18 Kontron 6U VPX VX6060's, powered by Dual Intel Core i7 processor computing nodes, and employs 36 tightly coupled processors. Using an innovative VXFabric approach, which is a simplified API that Kontron developed to help accelerate the design process, Kontron's new HPEC platform allows high-speed socket-based communication between blades by using multiple switched fabric interconnects within the backplane. The 72 core, 18-blade Kontron HPEC platform provides a breakthrough in compute density, up to 1.44 Teraflops (1.44 Trillion Floating Point Operation per second) in a small 19-inch footprint that delivers the high-performance computing power that is a critical capability for many of today's military systems including radar, sonar, SIGINT and video processing for various aircraft or UAV programs.

To view the Editor's Choice Award by Military Embedded Systems Magazine: mil-embedded.com/editors-choice/vpx-goes-hpec/

About OpenSystems Media

OpenSystems Media has been a leading publisher of electronics magazines, e-mail newsletters, websites, and product resource guides for more than 20 years. OpenSystems Media offers E-casts and Techcasts for engineers and provides interactive tools where engineers can communicate directly with presenters and top industry editors. Current publications include: CompactPCI, AdvancedTCA, & MicroTCA Systems; DSP-FPGA.com; Embedded Computing Design; Military Embedded Systems; PC/104 and Small Form Factors; and VITA Technologies. For more information, visit www.opensystemsmedia.com.

About Kontron

Kontron is a global leader in embedded computing technology. With more than 40% of its employees in Research and Development, Kontron creates many of the standards that drive the world's embedded computing platforms. Kontron's product longevity, local engineering and support, and value-added services, helps create a sustainable and viable embedded solution for OEMs and system integrators. Kontron works closely with its customers on their embedded application-ready platforms and custom solutions, enabling them to focus on their core competencies. The result is an accelerated time-to-market, reduced total-cost-of-ownership and an improved overall application with leading-edge, highly-reliable embedded technology.

Kontron is listed on the German TecDAX stock exchange under the symbol "KBC". For more information, please visit: www.kontron.com/

To view the Editor's Choice Award by Military Embedded Systems Magazine: mil-embedded.com/editors-choice/vpx-goes-hpec/

PR online: www.kontron.com/about-kontron/news-events/kontron+hpec+platform+chosen+by+military+embedded+systems+magazine+for+editors+choice+award.5876.html


Americas

Richard Pugnier

Kontron

Tel:+1 (858) 623-3006

richard.pugnier@us.kontron.com

APAC

Richard Pugnier

Kontron

Tel:+1 (858) 623-3006

richard.pugnier@us.kontron.com

All rights reserved.

Kontron is a trademark or registered trademark of Kontron AG.
Inteland IntelCoreare trademarks of IntelCorporation in the US and other countries.

PICMG and CompactPCI are trademarks of the PCI Industrial Computers Manufacturers Group.

All other brand or product names are trademarks or registered trademarks or copyrights by their respective owners and are recognized.

All data is for information purposes only and not guaranteed for legal purposes. Subject to change without notice. Information in this press release has been carefully checked and is believed to be accurate; however, no responsibility is assumed for inaccuracies.