Kingbright's IR LEDs are offered in SMD and Through-Hole packages.
Press Release Summary: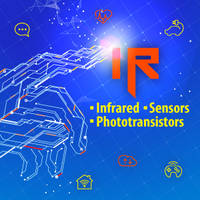 Kingbright's IR LEDs are available with infrared, phototransistor and sensor selection. These infrared emitter and phototransistor feature a wavelength ranging from 880nm to 940nm at 20mA with 20° to 160° viewing angles. Photo light sensor uses NPN silicon phototransistor whereas RGB color sensor utilizes three Si photodiodes with color filter. The sensors are offered in SMD package and used for color balancing of display backlighting appliances.
---
Original Press Release:
Kingbright Broadens Optoelectronics Portfolio with Infrared, Phototransistor and Sensor Selections - IR LEDs
Kingbright introduces the IR LEDs selection with Infrared, Phototransistor and Sensor in industry standard SMD and Through-Hole packages.
Kingbright IR LEDs selection features infrared emitter & phototransistor in the wavelength range from 880nm to 940nm @ 20mA (or *50mA) with different lens options and viewing angles from 20° to 160°. This selection offers comprehensive package alternatives which include PLCC, subminiature, top emitting, right angle, dome lens SMD LEDs as well as 3mm and 5mm through-hole in matching emitter/detector pairs.
To further broaden our product offering, Kingbright introduces ambient light photo sensor and RGB color sensor. The ambient light photo sensor is a NPN silicon phototransistor which is adapted to respond to the human eye. Sensitive to visible spectrums, it is an effective power saving solution to display backlighting appliances. The RGB color sensor uses three Si photodiodes with color filter, which makes it an ideal solution to color balance of display backlighting appliances. Both sensors are available in SMD package.
To learn more about Kingbright IR LEDs selections, please visit the IR LEDs page for more information http://www.kingbrightusa.com/lobbyIR.asp.
About Kingbright
Kingbright is a leading manufacturer with over 35 years of technological innovation in LED components and offers the most comprehensive, reliable and robust LED products in the industry. All Kingbright products are compliant to world-class standards, and all four of our manufacturing plants in Shenzhen, China are accredited with TS 16949, ISO 9001, ISO 14001 certification. Kingbright's long-standing commitment to R&D has led to the development of superior LED technologies. For additional product and company information, please visit www.KingbrightUSA.com.
More from Electrical Equipment & Systems