Kinematic Optical Mounts provide precision adjustment.
Press Release Summary: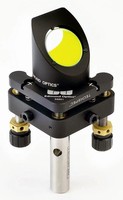 With more than 25 options, TECH SPEC(TM) Mechanics consist of optical mounts and mounting table platforms that are adaptable to variety of applications. Mounts feature ±5° of tip/tilt, 100 TPI fine adjustment screws, aluminum plates, and common mounting bores for No. 8/M4 socket-head cap screws. Stainless steel adjustment mechanisms ensure repeatability, while nylon contact rods and screws protect optics. Optical holders are available for common sizes of English and Metric components.
---
Original Press Release:

Edmund Optics New TECHSPEC(TM) Mechanics Provide Precision, Flexibility and Ease of Use



"Treat Your Optics Right."

January 10, 2007, Barrington, NJ. Edmund Optics announces their new family of TECH SPEC(TM) Mechanics. The kinematic series of Optical Mounts and Mounting Table Platforms offer precision adjustment and unparalleled repeatability. More than 25 options are available, adaptable to a wide variety of different applications.

"These mechanics make installation and alignment easier than ever," says Alex Moy, Product Line Manager at Edmund Optics. "The design works with you. For example, we've incorporated fingercuts that make the placement of optical components both convenient and accurate. Don't just drop your optic into any holder and hope for the best; treat your optics right with our new mounts."

Flexibility is the key to Edmund's new TECHSPEC(TM) kinematic mounts. The new features aren't always visible to the naked eye. "We've given customers the option of creating motorized solutions by removing the turning knob and using the hex connector," says Alex Moy.

Mounts feature ±5 degrees of tip/tilt, 100 TPI fine adjustment screws, aluminum plates, and common mounting bores for #8/M4 socket-head cap screws. They are available with 2 or 3 adjustment screws; the 3-screw models allow additional adjustment in the optical axis. Stainless steel adjustment mechanisms ensure repeatability. Nylon contact rods and screws protect the optics from damage.

Optical holders are available for the most common sizes of English and Metric optical components. In addition, C-Thread and T-Thread versions are compatible with Edmund's line of mounting components, offering more than 30 additional mounting size options. Horizontal mounting adapters are also available.

About EO:
Edmund Optics (EO) is a leading producer of optics, imaging, and photonics technology for R&D, electronics, semiconductor, pharmaceutical, biomedical, and military markets around the globe. EO is the world's largest supplier of off-the-shelf optical components. Customers can purchase items by contacting EO at 1-800-363-1992, via the catalog, or via the website at www.edmundoptics.com

More from Machinery & Machining Tools