Key Code/Code System facilitates access-control management.
Press Release Summary: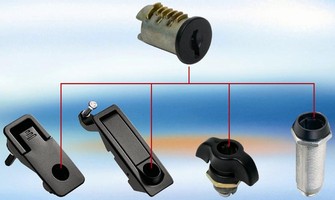 Southco® Key-Choice System separates key code specification decision from latch specification decision to offer flexible options for managing security in diverse industries. Range of latch styles is available to accommodate various physical demands, but each latch style accepts identical range of lock core options. System coordinates keylocking latches and different key code options - master keyed, keyed alike, keyed different - to meet end-use requirements.
---
Original Press Release:

Southco Key-Choice System Simplifies Access-Control Implementation and Management



Concordville, PA, March 20, 2008-The Southco® Key-Choice System provides a comprehensive solution to the common problem of coordinating keylocking latches and key codes to meet end-use requirements. By separating the key code specification decision from the latch specification decision, the Southco Key-Choice System offers flexible options for managing security.

The system provides the ability to install lock cores at multiple points throughout the manufacturing and distribution supply chain in order to eliminate the complexity of tracking key code assignments and offer end users greater choices of key code options. It also provides a more attractive and practical alternative than using external padlocks to manage key codes.

The Southco Key-Choice System encompasses a wide variety of latch styles-including compression latches, push-to-close latches, cam latches, cam locks, and multi-point latches-in order to accommodate the physical demands of diverse applications. Yet, each latch style accepts the identical range of lock core options, offering the ability to tailor key code assignment to the security needs of the application well after installation of the latch. This also offers the manufacturer the option to bundle multiple latch styles and provide the convenience of a single key.

Practical applications of the system address any combination of keying requirements-including master keyed, keyed alike, and keyed different key code options. It also addresses applications where access needs to be restricted to a single user or operator. And it simplifies the opportunity to vary shared-access and exclusive-access assignments-including master-key management-across a range of units.

This ability to mix-and-match key codes among multiple latch styles answers specific needs across a variety of industry applications. Recreational vehicles, utility trucks, buses, and off-highway equipment benefit from the convenience of managing all of the locks on the vehicle, from entry locks to access panels and storage compartments inside and outside the vehicle with a single key. Industrial enclosures and self-service equipment benefit where access to specific compartments needs to be limited to authorized individuals. Furniture applications benefit where it is desirable to manage keylocking within assigned clusters of furniture and to maintain the option to "re-key" individual pieces of furniture in the future.

The concept of flexible key code assignment also offers advantages for any product sold through distribution channels, where it is desirable to make the decision on key code assignments as close to the end-user as possible. In this type of situation, all latches can be fully installed at the factory, but individual lock cores and key codes can be installed and assigned at the distributor location or even at the end-user location.

For more information on the Southco Key-Choice System, visit Southco's security website at security.southco.com, e-mail their 24/7 customer service department at info@southco.com, call 610-459-4000; or fax to 610-459-4012.

Southco is a leading global provider of engineered access solutions, including latches, locks, captive fasteners, hinges, handles, and other accessories for applications in the marine, networking, telecommunications, computer, automotive, aerospace, mass transit, off-highway/construction, RV/caravan, industrial machinery and HVAC industries.

Southco is strongly focused on customized engineering solutions and global support for its key customers. The company aspires to be a virtual engineering center for its customers' engineered-access solutions and is committed to providing outstanding quality and overall satisfaction. Southco's promise to its customers is to connect, create and innovate to provide the best solution for every access engineering problem.

More from Computer Hardware & Peripherals