Kennametal Presents Mill 4-12KT Tangential Shoulder Mill for All Steel and Cast Iron Applications
Press Release Summary: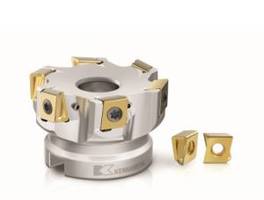 Features mounted inserts with four cutting edges per insert and shallow pocket design
Available with seven corner radii from 0.4 mm to 3.1 mm with an axial depth of cut range from 0.5 to 12mm
Offered with triangular-shaped margin design
---
Original Press Release:
Kennametal Introduces Its Mill 4-12KT, the Next Generation of Tangential Shoulder Milling
New tangential shoulder mill features an innovative triangular-shaped margin design providing cutting edges with exceptional strength
Kennametal today announced its new Mill 4-12KT, the next generation of tangential shoulder mills, producing high quality floor surface finishes for nearly all steel and cast iron applications.
"The Mill 4-12KT uses15% lower cutting forces, an important consideration with today's lighter duty, 40-taper machine tools," said Tim Marshall, Senior Global Product Manager. "That allows customers to feed faster without putting additional stress on the spindle. And in long overhang situations or where the part fixturing is less than optimal, lower forces equate to less chatter, reduced edge chipping, and smoother surface finishes."
Mill 4-12KT has tangentially mounted inserts with four cutting edges per insert for reduced tooling costs. Seven corner radii from 0.016" (0.4 mm) to 0.122" (3.1 mm) are available, along with coolant-through, medium and coarse pitch cutter bodies 2" (50mm) to 8" (200mm) in diameter. With an axial depth of cut range from 0.019" to 0.472" (0.5 to 12mm), Mill 4-12KT covers most shoulder milling applications.
Multiple factors contribute to significant performance increases, even in aggressive cutting conditions:
The tangential, "on-edge" insert design also allows the insert to take advantage of the strength of the carbide thickness more so than radially mounted inserts found on traditional milling cutters.
A shallow pocket design, allows the core size of the cutter body to be very robust. 
The axial and radial seating surface designs provide exceptional stability.
The Mill 4-12KT is the perfect complement to Kennametal's existing shoulder milling portfolio. This includes the Mill 4-11 and Mill 4-15, cutters known for their ability to generate shoulders with high quality wall surface finishes.
About Kennametal
With over 80 years as an industrial technology leader, Kennametal Inc. delivers productivity to customers through materials science, tooling and wear-resistant solutions. Customers across aerospace, earthworks, energy, general engineering and transportation turn to Kennametal to help them manufacture with precision and efficiency. Every day approximately 10,000 employees are helping customers in more than 60 countries stay competitive. Kennametal generated nearly $2.4 billion in revenues in fiscal 2018. Learn more at www.kennametal.com.