Junction Box solves space problems in bus systems.
Press Release Summary: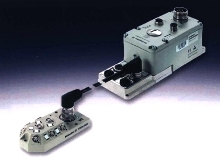 SAI Combi connects up to 16 I/O points to Profibus DP and CAN Open bus systems. Sensor box is rated IP 67 or NEMA 6 for harsh environments. System includes two 8-channel SAI-M8 sensor boxes with M16 circular, homerun connectors that plug into one active bus-enabled base. Sensor boxes fit industry-standard drill profile. Homerun cables are made from flexible C-Track compatible cables. Cables, cordsets, and field attachable plugs and sockets are available.
---
Original Press Release:
I/O Distribution Where You Want It-And Save Labor and Cost

RICHMOND (July 3, 2002) - Weidmuller is introducing the SAI Combi (patent pending), which solves tight space problems for bus systems and contains the same great modular features of the standard SAI M8 and SAI bus-enabled modules. The system provides full protection under IP 67 or NEMA 6 for harsh industrial environments. In typical sensor applications where it is desirable to integrate the electronics required for bus systems, existing technology provides large and heavy devices that are too cumbersome in tight spaces such as retrofits or for moving parts such as robotic arms. And expensive T-connectors, typically used in this type of application, are no longer needed to connect drops, nor are special shielded bus lines. Weidmuller is meeting the diverse demands placed on bus connection technology and external supply by mechanical engineers: connect on the spot or plug-and-play.

The SAI Combi not only provides for decentralized automation application but also allows for greater numbers of connections. Weidmuller's new solution, connects as many as 16 I/O points with a single bus-enabled sensor box. Simply plug two 8-channel SAI-M8 sensor boxes with M16 circular homerun connectors into one active bus-enabled base via 2-meter homerun cables. The M8 sensor boxes fit the industry standard drill profile for sensor boxes, allowing for retro-fit. The homerun cables are made from highly flexible C-Track compatible cables which eliminates the need for expensive shielded cabling that is more subject to breaking in motion applications. The innovative, highly modular SAI Combi is available with bus active components for Profibus DP and CAN Open, with more systems planned.

Cables and cordsets are available, as well as field attachable plugs and sockets for making low cost quick connections. Professional printed marking using standard size marking tags adds a professional touch for a crisp finished product.

Pricing for the SAI junction box products start at $40.00 List.

Weidmuller, Inc. is the U.S. operation of Germany-based Weidmuller Interface GmbH and Company-the world's leading supplier of electrical connection technology such as terminal blocks, printed circuit board terminals and connectors, relay sockets and plugs, and power supplies. Weidmuller has approximately 3,400 employees worldwide, with 70 sales organizations or offices in more than 60 countries. Weidmuller, Inc. was established in Richmond, Virginia in 1975 and currently employs approximately 130 people in its U.S. operations.

For more information about Weidmuller, Inc. and its products, please contact:

Marketing Communications Manager

Weidmuller, Inc.

821 Southlake Boulevard

Richmond, Virginia 23236

Phone: (800) 849-9343

Fax: (804) 794-0252

Email: info@weidmuller.com

Website: www.weidmuller.com
More from Agricultural & Farming Products