Joint Interoperability Test Command (JITC) Certifies Crestron Control Systems and Touchpanels Based on High Scores for Security, Compliance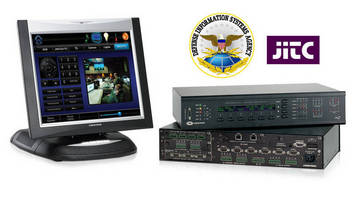 Crestron Control Systems and Touch Panels Awarded JITC Information Assurance Certification for Top Security Clearance; Earns Department of Homeland Security's Highest Compliance Rating on Vulnerability Assessment Results

Rockleigh, NJ - Crestron today announced that its advanced control systems and touchpanels received approval by the Joint Interoperability Test Command (JITC) of the U.S. Department of Defense Information Systems Agency (DISA). Based on results of stringent Information Assurance (IA) assessments of its systems, which were approved by the Chief of Homeland Security and Information Portfolio, the flagship Crestron control technologies earned security rankings that far exceeded minimum protocol standards, in addition to the lowest Internet Protocol (IP) vulnerabilities. The JITC certification earns Crestron control systems and touch screens the highest levels of security clearance and allows its technology to be deployed into highly secure federal government network applications.

"We are excited about our high scores in all phases of the JITC testing, but even more importantly we had zero Category 1 compliance issues in our Security Technical Implementation Guides and Vulnerability tests." said Landon Lovett, Crestron Director of Federal Government Markets. "While our test scores were very high, and we far exceeded the minimum JITC requirements, we will continue to improve the security and networthiness of Crestron government offerings."

Under the guidelines of the Department of Defense (DoD) Directive 8500.01E, Information Assurance, DoD Instruction 8500.2, Information Assurance Implementation, and DISA Field Security Operations Security Technical Implementation Guides (STIG), Crestron control systems and touch panels received security scores in the elite 90th percentile for the four-phased JITC assessment procedure, higher than any other AV control system manufacturer.

Tested areas included a Security Readiness Review, Vulnerability Testing, Information Assurance Controls and Functional Testing, which validates that a secure implementation of the tested Crestron hardware will not compromise the integrity of the network or system to which it is deployed.

"We encourage the Intelligence Community, Government Agencies and all branches of the US Armed Services where information security is critical, to look at our JITC assessment and evaluation and compare the results," added Lovett. "The security and safety of the men and women in harm's way rely on Crestron in mission critical installations, and that's something we take very seriously. Our engineers place the utmost importance on it because we understand how critical national security is, now more than ever."

To learn more about Crestron solutions that ensure secure control and communications in military and government applications, please visit:
http://www.crestron.com/solutions/control/government_eoc_noc_ccc_courtroom_automation/

About Crestron

For 40 years Crestron has been the world's leading manufacturer of advanced control and automation systems, innovating technology and reinventing the way people live and work. Providing integrated solutions to control audio, video, lighting, computer, IP and environmental systems, Crestron streamlines technology, improving the quality of life for people in corporate conference rooms, hotels, classrooms, auditoriums, and in their homes. Crestron's leadership stems from its dedicated people who are committed to providing the best products, programs and services in the industry.

In addition to its World Headquarters in Rockleigh, New Jersey, Crestron has sales and support offices throughout the U.S., Canada, Europe, Asia, Latin America and Australia.


More from Packaging Products & Equipment