Jig Saws produce 1 1/8 in. blade stroke.
Press Release Summary: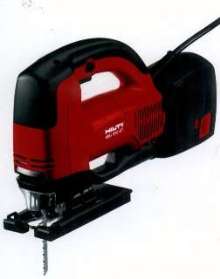 Models WSJ 750-ET and WSJ 850-ET are 7.8 and 8.4 A saws for cutting wood, metal, and plastic. Smart Power(TM) function allows constant blade speed under load, while PrecisionGuide clamping system secures blade to prevent wandering and bending. Saws include 6-position stroke rate adjustment, 4 orbital action settings, dust blower, adjustable baseplates for bevel cuts up to 45°, constant-on button for continuous use, and keyless blade change with blade eject.
---
Original Press Release:
Unrivaled Power, Precision and Comfort
NEW HILTI WSJ 750-ET & WSJ 850-ET JIG SAWS PROVIDE PEAK PERFORMANCE TULSA, (Okla.) - October 13, 2004 - The new Hilti WSJ 750-ET and WSJ 850-ET Jig Saws deliver unrivaled power, precision and comfort for cutting into wood, metal, plastic and other materials. With innovative features, including Smart Power(TM), a new blade guidance system and optional self-contained dust removal system for the WSJ 850-ET, these saws are ideal for making precision cuts in the toughest of materials and are the perfect complement to the Hilti reciprocating saws. The most powerful jig saws available, the WSJ 750-ET and WSJ 850-ET (with 7.8 amps and 8.4 amps respectively) feature Smart Power(TM) for constant blade speed under load, a longer blade stroke (1 1/8 inch) and OptiCut Action, which combines the longer blade stroke with Active Orbital Action to remove more material on each upward stroke. With a faster cutting speed and ability to cut through thicker materials with less force, these Hilti jig saws can't be beat. For increased precision, each saw features a PrecisionGuide clamping system, which secures the blade to prevent wandering and bending. The saws also feature a six-position stroke rate adjustment that fits your cutting speed to each job and four orbital action settings for smooth to aggressive cutting performance. These features help ensure professional cuts, longer blade life, less material waste due to imprecise cuts and a sure fit of component pieces. For additional working comfort, the Hilti jig saws feature a unique counterbalance system that reduces vibration by up to 60 percent. The WSJ 850-ET's soft comfort grips further dampen vibration to increase the operator's working comfort. In addition to the operator benefit, less vibration also enables more precise cuts. Both saws also feature keyless blade change with blade eject allowing the blade to be ejected without touching it, so there are no more hassles with hot or broken blades. Both saws feature a dust blower for better visibility of the cut line, adjustable baseplates for bevel cuts up to 45 degrees, a constant-on button for continuous use and an impact resistant housing for demanding jobsite use. While both saws can be connected to a portable shop vacuum, only the WSJ 850-ET utilizes the WSJ-DRS dust removal attachment. The DRS is mounted directly to the tool and reduces dust in the workplace by up to 85 percent. Hilti stands behind the WSJ 750-ET and WSJ 850-ET with its One Year Full Service Program, which includes shipping, maintenance service, repair and replacement of all worn or defective parts, functional testing and adjustment and safety check after any repair.* For more information on the WSJ 750-ET and WSJ 850-ET and other Hilti saws, please contact Hilti Customer Service. From the US, call Hilti, Inc., at 1-800-879-8000, or in Spanish, call 1-800-879-5000; from Canada, call Hilti (Canada) Corporation at 1-800-363-4458. Additional information can also be found online at www.us.hilti.com or www.ca.hilti.com. * Some limitations apply. See Hilti for details. About Hilti, Inc.: Hilti is a world-leading manufacturer and supplier of quality, innovative and specialized tools and fastening systems for the professional user. With more than 800 highly trained Hilti account managers and engineers throughout North America and an additional 1,300 Hilti employees nationwide, Hilti expertise covers the areas of powder actuated fastening, drilling and demolition, diamond coring and cutting, measuring, firestopping, screw fastening, adhesive and mechanical anchoring, and strut and hanger systems.
More from Packaging Products & Equipment