JFET Power Transistors support 650 V switching.
Press Release Summary: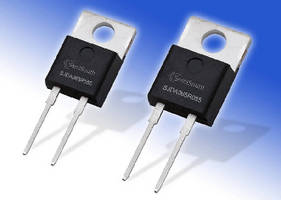 Employing vertical trench JFET structures, Series SJDA065R055 features 0.055 W max RDS(on), positive temperature coefficient to facilitate paralleling, and fast switching with no tail current at 150°C. Voltage controlled silicon carbide devices, housed in TO-220 package, are suitable for solar inverters, SMPS, PFC circuits, induction heating, UPS, and motor drives.
---
Original Press Release:

SemiSouth First to Sample 650V 55mOhm SiC JFETs



Fast switching, high current handling, superior thermal properties

SemiSouth Laboratories, Inc., the leading manufacturer of silicon carbide (SiC) transistor technology for high-power, high-efficiency, harsh-environment power management and conversion applications, is leading the world once more. After first releasing commercial 1200 V trench JFETs in 2008 - which are currently being used in volume production by many manufacturers of UPS, hi-rel products, audio systems and solar inverters - today SemiSouth is delivering industry's first 650 V silicon carbide JFET power transistors. The fast switching speeds, large current handling capability combined with the superior thermal properties of SiC makes these devices ideal candidates for power electronic applications. They employ vertical trench JFET structures, which allow for industry-leading on-resistance per unit area, as much as five to ten times lower than competing technologies.

Dr. Jeffrey B. Casady, President/CTO of SemiSouth, commented: "Customers in markets such as EV drive train, UPS, welding, solar, induction heating have long been asking for SiC switches which are very reliable, cost-effective, and capable of high-efficiency at high power densities. We are proud to be the first company to be able to offer such a product and our customers will be able to realize enormous benefits by designing in these class-leading 650 V JFETs."

Dieter Liesabeths, Senior Vice President of Sales and Marketing added: "This product is very significant. Markets where we are already in volume production using our 1200 V switch such as solar and UPS, also require lower-voltage switching at 650 V for efficiency and higher power density solutions where grid voltage or bus voltages are lower. Also, the automotive industry is split on the EV drive train with some customers requiring 1200 V and higher, and others requiring only 650 V. So we can now serve these markets even better with power transistor solutions from 650 V through 1700 V."

The 650V/55mW SJDA065R055 SiC JFETs - like many SemiSouth devices - feature a positive temperature coefficient for ease of paralleling and extremely fast switching with no "tail" current at 150degC. RDS(on) typical for these new voltage-controlled devices is 0.044W, which also exhibit a low gate charge and low intrinsic capacitance.

Typical applications for these TO-220-packaged devices are solar inverters, SMPS, PFC circuits, induction heating, UPS and motor drives.

About SemiSouth Laboratories, Inc.

SemiSouth, a privately owned corporation with its main offices and foundry in Starkville, Mississippi, (USA), focuses on silicon carbide (SiC) power devices and electronics, targeting applications such as: solar inverters; power conversion in computing and network power supplies; variable-speed drives for industrial motors and hybrid electric vehicles; and products used in high-power, harsh-environment military and aerospace environments. The company was formed in 2000, has sold products globally through direct sales or distributors since 2005, and received a major growth investment from Power Integrations (NASDAQ: POWI) in 2010. It introduced the world's first commercial, cost-effective normally-off SiC JFETs in 2008, which have enabled world-record energy efficiencies for its customer's products. More information is available at www.semisouth.com.

For further information:

Brenda Temple, Director of Inside Sales and Contracts

SemiSouth Laboratories, Inc.

Tel: +1 (662) 324 7607 ext. 29

E-mail: brenda.temple@semisouth.com

More from Agricultural & Farming Products