IR Filters target thermal and medical imaging.
Press Release Summary: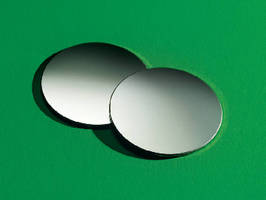 Made from precision Germanium substrate, IR Neutral Density Filters are spectrally flat over wavelength range of 2-14 µm, making them suited for eliminating hot spots in thermal images or attenuating variety of IR laser sources. Available in 25 or 50 mm diameters, filters offer optical densities of 0.3, 0.5, 1.0, 2.0, and 3.0. They achieve attenuation via metal alloy coating, which uses combination of absorption and reflection to reach stated transmittance value.
---
Original Press Release:

Edmund Optics Introduces IR Neutral Density Filters



Perfectly suited for beam attenuation in thermal imaging

August 20, 2009, Barrington, N.J. - Edmund Optics (EO), the premier provider of optical components, introduces their new IR Neutral Density Filters. Exhibiting excellent linearity, these filters are spectrally flat over a wide wavelength range of 2 µm to 14 µm. Made from precision Germanium substrate, the filters are ideally suited for thermal and medical imaging. The broad spectral range makes these filters well-suited for eliminating hot spots in thermal images or attenuating a variety of IR laser sources, including CO2 and IR Diode and Quantum Cascade Lasers. The IR Neutral Density Filters achieve attenuation via a metal alloy coating, which uses a combination of absorption and reflection to reach the stated transmittance value.

Neutral Density Filter Kits ideal for use with EO's filter wheels

Edmund Optics' IR Neutral Density Filters are available in five densities and two size options. The IR ND Filters are available in both 25 mm or 50 mm diameter models with optical densities of 0.3, 0.5, 1.0, 2.0 and 3.0. IR Neutral Density Filter Kits are available in 25 mm diameter and 50 mm diameter versions. All five optical densities are also available as part of the EO Neutral Density Filter Kits. These unique kits are a great value, and are especially useful for integration with Edmund Optics' Filter Wheels.

Broadest selection of densities in the industry

Edmund Optics' IR Neutral Density Filters are extremely price competitive and offer the broadest selection of densities in the industry. With no waiting for tooling or custom design, these products are in stock with immediate availability for fast prototyping and testing. They offer an ideal solution for fast turnaround with excellent cost savings. Custom sizes and densities are available.

About EO:

Edmund Optics® (EO) is a leading producer of optics, imaging, and photonics technology for R&D, electronics, semiconductor, pharmaceutical, biomedical, and military markets around the globe. EO is the world's largest supplier of off-the-shelf optical components. Customers can purchase items by contacting EO at 1-800-363-1992, via the new interactive catalog, the website at www.edmundoptics.com, or requesting their print catalog.

Company Contact:

Marisa Edmund

Vice President, Marketing

Edmund Optics, Inc.

101 East Gloucester Pike

Barrington, NJ 08007 U.S.A.

Phone: 1-800-363-1992

Fax: 1-856-573-6295

email: medmund@edmundoptics.com

More from Communication Systems & Equipment