IPTS' 501475 Hydraulic Cylinders are compact, customizable, and modifiable.
Press Release Summary: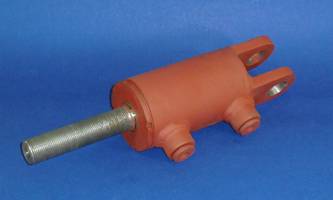 IPTS' 501475 are customizable for specific pressure, stroke, threaded rod hydraulic cylinders with primer paint. Models come with a variable attachment capability. The 501475 hydraulic cylinders help create distinctive machines and improve profit margins.
---
Original Press Release:
IPTS Introduces the 501475 Hydraulic Cylinder
IPTS is widely known for our gear reducers ad ability to make products to customer specifications. The 501475 is a new product which is the answer to our OEM customer request for a specific pressure, stroke, threaded rod hydraulic cylinder with primer paint. The compact design and variable attachment capability clearly define this item in the product category.
IPTS products are in operations that push, pull, place, lift, lower, locate, stack, turn, wrap. We are always moving something. The 501475 hydraulic cylinder is one of many in our product which are modifiable and offer OEMs an opportunity to create distinctive machines while improving profit margins. Tell us what we can do for you! Please visit www.iptsinc.com or contact sales@iptsinc.com for more information.
More from Mechanical Power Transmission