Ipsen Builds Large Vertical Vacuum Furnace for PMF Industries, Inc. Precision Metal Forming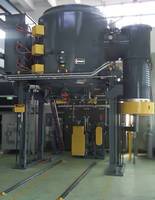 CHERRY VALLEY, IL – PMF Industries in Pennsylvania selected Ipsen to manufacture a vertical MetalMaster® vacuum heat treatment system. PMF will use this furnace to manufacture stainless steel, flowformed products for the Aerospace industry. This particular MetalMaster vacuum furnace has a 48" x 84" (1,219 mm x 2,134 mm) all-graphite hot zone with a 6,000-pound (2,722 kg) load capacity. It utilizes gas cooling to 2-bar, absolute pressure and operates at temperatures of 1,000 °F to 2,400 °F (538 °C to 1,316 °C). The furnace also features a 35-inch (889 mm) Varian diffusion pump and Ipsen's CompuVac® control system.

The need for a clean manufacturing environment and overall uniform cooling drove PMF to select Ipsen's MetalMaster. Respected as a workhorse in the Aerospace industry, the MetalMaster's design has maintained ultimate performance and reliability for more than 45 years, with 500+ installations worldwide. It delivers the cleanliness and uniform cooling that customers request, while also providing a cost-effective, versatile and adaptable vacuum furnace system. Ipsen equipment is also capable of meeting Nadcap and AMS 2750E applicable requirements.

MetalMaster heat treatment furnaces are available in a wide variety of sizes and configurations, including horizontal or vertical designs and all-metal or graphite insulated hot zone packages. This multi-purpose vacuum furnace series features a specially engineered heat exchanger and turbine blower designed to optimize gas flow for more efficient cooling and excellent temperature uniformity of ±10 °F (±5 °C) or better. In addition to Ipsen's CompuVac control system, MetalMaster offers other high-productivity options, including specialized instrumentation, increased pumping capability and material handling systems.

From assisting the efforts of NASA by providing brazing technology for rocket nozzle design to supporting Aerospace suppliers for the brazing and stress relieving of turbine blades, vanes, diffusion cages and combustion chamber liners, Ipsen's world-class engineering team has the experience and resources to design and deliver the advanced thermal processing systems that allow our customers to innovate. Choosing Ipsen means choosing a partner in success. Learn more about our products and services at www.IpsenUSA.com.

About PMF Industries
Since 1961, PMF Industries has been a pioneer in the development of the flowforming process by continually expanding their expertise and capabilities in metal forming and fabrication, allowing them to serve a wide array of industries: Aerospace, Environmental, Food/Beverage, Defense, Filtration, Medical, Nuclear, Pharmaceutical and Power Generation. PMF continuously develops proprietary manufacturing processes as a result of in-house research and collaboration with research organizations in the U.S. and Europe to develop new technologies. PMF offers concept to completion manufacturing with engineering consultation across a broad range of manufacturing capabilities, including flowforming, rotoforming, electromagnetic forming, hydroforming, laser cutting, machining, heat treating, press forming and others. Visit www.pmfind.com to find out more about PMF Industries.

About Ipsen
Ipsen designs and manufactures industrial vacuum furnaces, atmosphere furnaces and supervisory control systems for a wide variety of thermal processing markets, including: Aerospace, Commercial Heat Treating, Medical, Energy and Automotive. With production locations in Europe, America and Asia, along with representation in 34 countries, Ipsen is committed to providing support for customers worldwide.
More from Software