IO Modules Can Be Wirelessly Connected via Bluetooth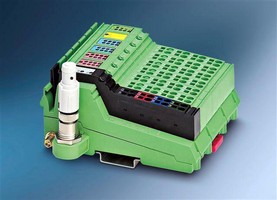 Phoenix Contact has expanded its wireless IO product pallet. Aside from IP65-compliant IO modules, IP20-compliant multi-channel modules can now be connected wirelessly via Bluetooth to the Fieldline system. The wireless IO module ILB BT ADIO 2/27 16/16 has 16 digital and two analog inputs and outputs. The wireless IO modules are wirelessly connected to the local bus via a gateway module, the Fieldline base station. With the IB IL 24 FLM Inline branch terminal it is also possible to integrate the wireless IO system in the Inline local bus. The base station controls communication to the wireless I/O modules automatically and transmits time-sensitive process signals at cycles in a deterministic manner.

With various bus terminals the wireless IO station can be integrated in all standard fieldbus networks, such as Interbus and Profibus. The use of the Bluetooth standard 1.2 with adaptive frequency hopping enables reliable data transmission in an industrial environment.

WLAN 802.11 b/g systems in the vicinity are not interfered with. The wireless IO system from Phoenix Contact makes wireless transmission of process and control signals to a fieldbus possible. Vulnerable and high-maintenance conductor lines, drag chains, and slip rings are no longer necessary.

More from Sensors, Monitors & Transducers