Motion Sensors / Detectors / Transducers
Intrusion Detectors are precise, secure, and responsive.
Press Release Summary: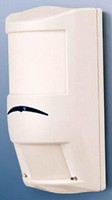 Professional Series reacts to unauthorized entry with low false alarm rate due to TriFocus optical system and Sensor Data Fusion (SDF) DSP. While TriFocus optical system combines 3 precision lenses for long-, medium-, and short-range monitoring with 2 separate PIR detector elements, SDF enables intelligent simultaneous processing of signals from 2 PIR sensors, one room temperature sensor, one white light sensor, and one microwave sensor. Conventional and LSN versions are available.
---
Original Press Release:

Fast, Precise and Secure Response: New Bosch Professional Series Intrusion Detector for Commercial and Industrial Use



o Optimum false alarm immunity thanks to TriFocus optical system and Sensor Data Fusion (SDF) digital signal processing
o 'Seamless monitoring from the wall to nominal range with three precision lenses and two separate passive infrared detector elements
o Conventional and LSN versions available

The new Professional Series intrusion detectors from Bosch are designed for commercial and industrial use. They react quickly and precisely to unauthorized entry and have an exceptionally low false alarm rate. The model series implements a variety of innovative technologies, adding an extra advantage to a cost-effective, failsafe installation. These technologies include the TriFocus system and Sensor Data Fusion (SDF) digital signal processing. The combination of TriFocus and SDF ensures top-of-the-range signal quality and therefore optimal detection.

TriFocus combines three precision lenses developed by Bosch for long, medium and short-range monitoring with two separate passive infrared detector elements. The short-focal lens provides coverage for the area under the detector. Both other lenses are optimized for monitoring the medium and nominal range. This design ensures maximum signal amplification with practically noise-free signals: a basic principle for SDF digital signal processing.

The Sensor Data Fusion enables intelligent simultaneous processing of signals from up to five sensors: two PIR sensors, one room temperature sensor, one white light sensor, and one microwave sensor. The motion detection is therefore supported by dynamic temperature compensation, active white-light suppression and, where applicable, microwave recognition that adapts to the appropriate range. Data is analyzed by a signal processing algorithm developed by Bosch, which is implemented in a high-performance microcontroller. The algorithm evaluates all data simultaneously and uses this data to determine whether or not an alarm should be triggered. In this way, SDF technology improves alarm performance by up to 35 percent and, at the same time, offers a significantly higher level of false-alarm immunity and reaction speed than any other detectors released to date.

The "anti-masking" technology in the detectors ensures they cannot be rendered inoperative by covering the lens with paper, card, adhesive tape, or spray without this being detected. The technology also provides trouble notification if the detector located in a harsh environment becomes dirty. In addition, the range of the Professional Series intrusion detectors can be changed via a DIP switch.

The new intrusion detectors have been approved in accordance with the European Standard EN 50131 Grade 2 and Grade 3. They are available in two versions-one for conventional technology and one for the Bosch LSN bus system-making it easy to integrate into existing systems. The LSN is a freely configurable loop bus system that offers a large selection of fire and intrusion detectors, control elements, and arming devices. It also provides automatic device type recognition, address allocation and operational reliability in the event of cable cut or short-circuit .

The two-part housing of the Professional Series intrusion detectors have a quick-release fastener, enabling installation to be completed in a matter of minutes. An integrated bubble level ensures proper alignment without the need for extra tools, eliminating the need for any additional adjustment. The plug-in terminal block makes wiring easy. These advantages cut installation time by up to 25 percent, while also reducing the risk of installation errors.

The Bosch Group is a leading global supplier of technology and services. In the areas of automotive and industrial technology, consumer goods, and building technology, some 271,000 associates generated sales of 46.3 billion euros in fiscal 2007. The Bosch Group comprises Robert Bosch GmbH and its more than 300 subsidiaries and regional companies in roughly 50 countries. This worldwide development, manufacturing, and sales network is the foundation for further growth. Each year, Bosch spends more than 3 billion euros for research and development, and applies for over 3,000 patents worldwide. The company was set up in Stuttgart in 1886 by Robert Bosch (1861-1942) as "Workshop for Precision Mechanics and Electrical Engineering."

The special ownership structure of Robert Bosch GmbH guarantees the entrepreneurial freedom of the Bosch Group, making it possible for the company to plan over the long term and to undertake significant up-front investments in the safeguarding of its future. Ninety-two percent of the share capital of Robert Bosch GmbH is held by Robert Bosch Stiftung GmbH, a charitable foundation. The majority of voting rights are held by Robert Bosch Industrietreuhand KG, an industrial trust. The entrepreneurial ownership functions are carried out by the trust. The remaining shares are held by the Bosch family and by Robert Bosch GmbH.

Additional information can be accessed at www.bosch.com.

More from Packaging Products & Equipment