Interface turns PC into laser power/energy meter.
Press Release Summary: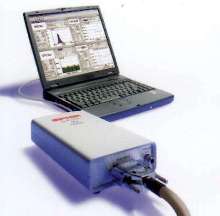 Smart Head to USB Interface includes ActiveX software and supports laser power/energy heads. Once interface is connected and software is installed, PC or Laptop will log power or energy measurements up to 4,000 Hz, and provide statistics, histograms, and detailed graphical displays. Up to 10 heads can be displayed at once on one PC and no external power source is required. Each USB Interface box also includes analog output for remote data logging or control.
---
Original Press Release:
Now Your PC is a Laser Power & Energy Meter

Danvers, MA. September, 2002- - Ophir Optronics, Inc., announced today that their "Smart Head to USB Interface" is now offered with new enhanced features.

The Ophir "Smart Head to USB Interface" which turns your windows based PC or laptop into a full-fledged Ophir multi-channel laser power/energy meter, now supports all Ophir laser power/energy heads including Pyroelectric Pulsed Energy heads. The "Smart
Head to USB Interface" comes complete with ActiveX software so you can control the unit from your own software.

Once the USB Interface is connected and the software installed, the PC or Laptop will log power or log energy measurements up to 4000 Hertz, provide statistics, histograms, detailed graphical displays and more. Up to 10 heads can be displayed at once on one PC and no external power source is required.

Users can log data from each head simultaneously to a file. In addition, the PC display screen can show the data from up to ten heads at once, or they can be viewed individually. Each USB Interface box also includes an analog output for remote data logging or control.

The Company

For more than 20 years, Ophir Optronics, Inc. has set the standard for the measurement of laser power and energy. Ophir, an ISO 9002 company, employs over 120 engineers, technicians and skilled workers. The company manufactures optical instrumentation, optical components and non-contact optical equipment for distance measurement and three dimensional mapping of objects The company's products are sold worldwide in over 25 countries. Ophir maintains marketing, sales and service centers in the USA, Japan, Israel and Germany.

Contacts: Dick Rieley (Ophir Optronics, Inc.)

Tel: 800-383-0814

Fax: 978-774-8202

E-Mail: sales@ophiropt.com

URL: www.ophiropt.com
More from Architectural & Civil Engineering Products