Interface offers polymer characterization capabilities.
Press Release Summary: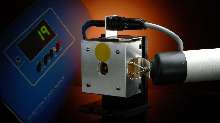 GPC-FTIR interface couples gel permeation chromatography (GPC)with fourier transform infra-red spectroscopy (FTIR) in continuous flow mode. Flow cell, which slots directly onto optical bench of spectrometer, minimizes band broadening and is available with choice of window materials. Cell assembly can operate at ambient temperature or be controlled up to 175°C. Interface is compatible with any GPC system and most industry standard FTIR spectrometers.
---
Original Press Release:
Enhanced Capabilities for Polymer Characterization using GPC-FTIR

Gel permeation chromatography (GPC) coupled with fourier transform infra-red spectroscopy (FTIR) is a very powerful technique for polymer characterization, providing compositional information as a function of molecular weight. It is particularly useful for the analysis of copolymers and polymer blends plus polymer additives, as well as conformational changes in polymers, eg short chain branching in polyethylene.

Polymer Laboratories, specialists in GPC, offer a GPC-FTIR interface for direct coupling of these two analytical techniques in continuous flow mode. The uniquely designed flow cell, which slots directly onto the optical bench of the spectrometer, features low dispersion for minimum band broadening and is available with a choice of window materials. The cell assembly can operate at ambient temperature or be controlled up to 175°C, which, together with the heated transfer line supplied with the interface, facilitates both ambient and high temperature GPC applications. The interface is compatible with any GPC system and most industry standard FTIR spectrometers.

For further information, please contact Polymer Laboratories Inc, Amherst Fields Research Park, Old Farm Road, Amherst, MA 01002, tel 413 253 9554, fax 413 253 2476, email PLInfo@polymerlabs.com, www.polymerlabs.com.

Issued by Laura Watson, Marketing Manager, 7 October 2003
More from Fluid & Gas Flow Equipment