Intelligrated Adds Tilt-Tray and Cross-Belt Sortation Solutions to Product Portfolio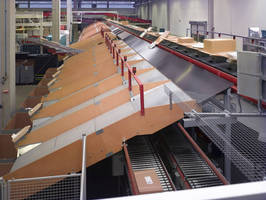 Company now exclusive provider of Crisplant loop sorters in North and South America

(Cincinnati, March 15, 2010) - Intelligrated® (www.intelligrated.com), a leading American-owned automated material handling solutions provider, announces the addition of tilt-tray and cross-belt sortation solutions to its product portfolio. Under an agreement resulting from the acquisition of FKI Logistex® in 2009, Intelligrated is now the exclusive provider of Crisplant® technology in North and South America. This agreement broadens Intelligrated's offering as a single-source supplier and integrator of world-class material handling solutions.

Intelligrated now designs, sells, manufactures and supports the complete line of Crisplant tilt-tray and cross-belt sorters, as well as associated software, controls, induction and chute solutions. The company offers these technologies as stand-alone sub-systems or as parts of larger automated material handling systems.

"Intelligrated is meeting the material handling market's demand for fully customized and scalable high-throughput sortation solutions," said Chris Cole, CEO of Intelligrated. "With our signature 24X7, US-based customer and aftermarket support services, we are well positioned to support the new and over 350 existing Crisplant sortation system installations in the Americas."

Crisplant loop sorters from Intelligrated meet and/or exceed the demand for high-speed, high-capacity, high-accuracy product flow in the retail, apparel, footwear, pharmaceutical, publishing, jewelry, post and parcel markets. With the addition of Crisplant loop sorters to the company's existing portfolio of high-speed sliding shoe, strip belt and pop-up wheel sorters, Intelligrated has one of the widest ranges of sortation solutions in the industry. Intelligrated uses its extensive sortation knowledge and experience to analyze each customer's application and propose the most appropriate solution.

Crisplant loop sorters combine high-capacity unit sortation with smooth operation and scalable footprints to meet a wide range of warehouse, parcel, postal, distribution and fulfillment configurations. The equipment features the latest in material handling and sortation technology, including energy-efficient linear synchronous motors, variable speed drives and smart machine controls.

Intelligrated will highlight its family of Crisplant tilt-tray and cross-belt sorters at NA2010 at Booth #1000, April 26-29, in Cleveland, Ohio.

For sales and marketing information, please contact

Emily Smith, senior marketing coordinator,

Intelligrated,

phone: (513) 881-5239

e-mail: emily.smith@intelligrated.com.

For media information, please contact

Samantha Devine, public relations,

Koroberi,

(919) 945-0566

e-mail: samantha@koroberi.com.

About Intelligrated

Intelligrated® (www.intelligrated.com) is a leading American-owned, single-point provider of automated material handling solutions with operations in the U.S., Canada and Mexico. Headquartered in Cincinnati, Intelligrated designs, manufactures and installs complete material handling automation solutions, including IntelliSort® line sortation systems, Crisplant® tilt-tray and cross-belt sortation systems, conveyor systems, Alvey® palletizers and robotics, Real Time Solutions® order fulfillment systems, warehouse control software and advanced machine controls-all supported by 24x7 Customer Service and Support.

Serving the warehousing, distribution, consumer product manufacturing, postal and parcel markets, Intelligrated collaborates closely with its clients to develop productivity solutions and responds to their needs throughout the life of their material handling systems.

More from Material Processing