IntelLIDrives XY-LIFT-ROTARY Stage features unlimited rotation.
Press Release Summary: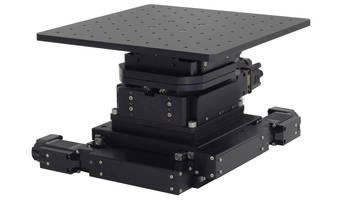 XYZR LSMA-100X100+MLVT70-13+RTHM151 combines XY lead-screw driven LSMA XY stages with Lift MLVT stages and worm gear rotary RTHM table.  Product features a closed-loop control system and linear resolution of 0.25 microns.  Used for scanning microscopy, wafer and printed circuit board inspection, the unit features a rotation resolution of 1 arc-sec.
---
Original Press Release:
Compact Four Axes XY-LIFT-ROTARY stage for precision applications
The demand for a high accuracy, compact XYZR stages is met with IntelLIDrives newly relased technologies that address the unique needs of scanning microscopy, wafer and printed circuit board inspection, automated assembly and wide range of specimens and samples scanning in many types of imaging techniques and micro-machining applications.
Very precise fine positioning and control is easily achieved through the combination of a stable closed-loop control system and an associated joystick option. These stages can be motorized with stepper motors and brush-less servo motors with encoders.  
Optional high-resolution, non-contact linear encoder is available. This non-contact encoder offers exceptional repeatability and stability over a range of operating conditions. Both digital and analog output versions are available with resolutions in sub-micron range.
SPECIFICATIONS
-XY TRAVEL 50x50 ... 200x200 mm
-Z LIFT TRAVEL 5 ... 25 mm
-ROTATION UNLIMITED
-LINEAR RESOLUTION 0.25 micron
-ROTATION RESOLUTION 1 arc-sec
LINK TO VIDEO:
https://www.youtube.com/watch?v=08R9WJK_TlY
For additional information visit www.intellidrives.com
Contact:
Gregory Kane
Manager
Email: ADMIN@INTELLIDRIVES.COM
Related