Insulation Tape withstands temperatures to 500°F.
Press Release Summary: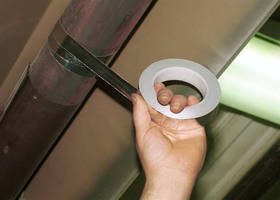 Fabricated using bilayer of aluminum and fiberglass tape combined with silicone adhesive, Pyro-Tape 682-HR heat reflective tape is suited for insulating pipes, ductwork, and process instrumentation exposed to high heat. Rated from -100 to 500°F, it provides adhesive strength of 40 oz/in. and tensile strength of 150 psi. Available in standard sizes of ½ and 1 in. wide x 36 Yd, as well as in custom widths, tape has cross-sectional thickness of 0.007 in.
---
Original Press Release:

Pyro-Tape 682-HR Heat Reflective Tape Now Available



Valley Cottage, NY - April 10, 2009

SUMMARY

Pyro-Tape 682-HR, a new heat reflective, high temperature tape produced by Aremco Products, Inc., is now available for insulating pipes and ductwork for applications to 500 °F (260 °C).

FEATURES

Pyro-Tape 682-HR is a new heat reflective, high temperature, insulation tape fabricated using a bilayer of aluminum and fiberglass tape combined with a silicone adhesive. The tape is rated from -100 °F (-73 °C) to 500 °F (260 °C), and provides an adhesive strength of 40 ounces/inch and tensile strength of 150 psi. Cross-sectional thickness is 0.007" (0.177mm).

Pyro-Tape 682-HR is typically used as a protective wrapping for pipes, ductwork and process instrumentation exposed to high heat, as well as insulation on chutes, rails, and slides.

Pyro-Tape 682-HR is available in standard sizes of ½" and 1" wide x 36 yards, and custom widths are available upon request:

Please contact Aremco's Technical Sales Department for more information about this advanced new heat reflective tape.

Contact:

Peter Schwartz

AREMCO PRODUCTS, INC.

P.O. Box 517,

707-B Executive Blvd.

Valley Cottage,

NY 10989

TEL: (845) 268-0039

FAX: (845) 268-0041

E-MAIL: aremco@aremco.com

WEBSITE:www.aremco.com

More from Paints & Coatings