Inspection Cameras provide IEEE-1394 standard output.
Press Release Summary: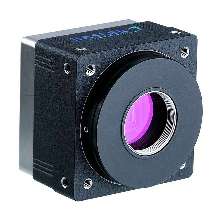 Basler area-scan cameras are offered in models providing VGA (640 x 480 pixel), CCIR (780 x 580 pixel), or Megapixel (1300 x 1030 pixel) resolution. Monochrome and color cameras, with BCAM 1394 driver, provide high-speed video output at up to 75 frames/sec for VGA camera. Windows 2000-compatible driver offers both low and high level interfaces, as well as C++ source code. Test images confirm that camera is processing all data included in image.
---
Original Press Release:

Edmund Industrial Optics Announces Basler Area Scan Cameras


October 15, 2002, Barrington, NJ - Edmund Industrial Optics (EO) of Barrington, New Jersey has announced the release of Basler area scan cameras that provides IEEE-1394 standard output, high sensitivity, and high frame rates in a compact package. Applications include glass bottle inspection, robotic vision, semiconductor or electronics inspection, microscopy, and optical character recognition. The high-frame rates are ideal for applications that need to image objects in motion.

The camera is available in models providing VGA (640 X 480 pixel), CCIR (780 X 580 pixel), or Megapixel (1300 X 1030 pixel) resolution. The monochrome or color cameras incorporate a BCAM 1394 driver to provide high-speed video output -- as high as 75 frames per second for the VGA camera. The driver is compatible with Windows 2000, and offers both low and high level interfaces, as well as C++ source code.

All the cameras include test images to confirm that the camera is processing all data included in the image. Users can externally synchronize the camera, as well as program the exposure times, gain, and offset. With an optional external 9-pin cable, users can access external triggering capabilities. The CCIR monochrome model includes a shading correction feature that allows users to correct for uneven illumination across the field.

The cameras measure less than 62 X 62 X 50 mm and weigh 310 g.

About Edmund Industrial Optics Inc.
Edmund Optics (EO) has been a leading supplier of optics and optical components to industry since 1942, designing and manufacturing a wide array of multi-element lenses, lens coatings, imaging systems, and opto-mechanical equipment. EO is application-focused and pursues new ways to implement optical technology, enabling advancements in semiconductor manufacturing, industrial metrology, and medical instrumentation. Our staff and facilities span the US, Europe, Singapore, Japan, and China. EO's skilled optical engineers design precision products for use in research, test & measurement applications, and for the automation of manufacturing processes. Visit www.edmundoptics.com to learn more.

Contact:
James E Liolin
Lion Associates
Marketing Communications
914-670-0138
jliolin@lionadv.com

Julianne Wagner
Edmund Industrial Optics
856-573-6250 ext. 6158
jwagner@edmundoptics.com

More from Fluid & Gas Flow Equipment