Insert Grades cover all cast iron turning operations.
Press Release Summary: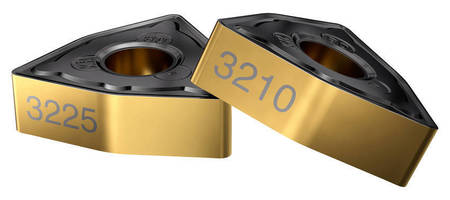 Insert grades GC3225 and GC3210 cover cast iron turning operations for both grey and nodular cast iron materials. While GC3225 provides secure, trouble-free machining in difficult conditions, flank wear-resistant GC3210 is suitable for turning in good to average machining conditions. Both provide requisite edge-line security and wear resistance for optimal performance via CVD coating combined with fine-grained hard substrate. Optimized micro-geometries facilitate light cutting action.
---
Original Press Release:

GC3225 and GC3210 - Two New Grades Covering All Cast Iron Turning Operations



Sandvik Coromant has introduced two new grades for machining cast iron. GC3225 and GC3210 form a new insert grade chain covering all cast iron turning operations for both grey and nodular cast iron materials.



GC3225 is a first choice grade for the cast iron turning application area. It is designed to provide secure and trouble-free machining even in the most difficult conditions.



GC3210 is a grade with high flank wear resistance suitable for turning in all cast iron materials, in good to average machining conditions. It enhances reliability and productivity in intermittent cuts, high cutting speeds, wet or dry machining, machined surface or light cast skin.



To provide the edge-line security and wear resistance necessary to optimize performance, GC3225 and GC3210 feature a CVD coating combined with a fine-grained hard substrate. Additionally, their innovative design utilizes optimized micro-geometries to facilitate light cutting action, hence reducing cutting forces and improving tool life.



The results of tests conducted at customers have shown remarkable results. GC3225 has more to give when other inserts reach the end of their life. By using the insert in machining of nodular cast iron it was possible to increase tool life by 70% compared to a competitor grade. GC3210 has been tested in the machining of differential case covers with some outstanding results. After changing to GC3210 instead of a competitor grade, it was possible to increase tool life by 38%.



Sandvik Coromant

Part of global industrial engineering group Sandvik, Sandvik Coromant is at the forefront of manufacturing tools, machining solutions and knowledge that drive industry standards and innovations demanded by the metalworking industry now and into the next industrial era. Educational support, extensive R&D investment and strong customer partnerships ensure the development of machining technologies that change, lead and drive the future of manufacturing. Sandvik Coromant owns over 3100 patents worldwide, employs over 8,000 staff, and is represented in 130 countries.



For more information visit www.sandvik.coromant.com or join the conversation on social media.



Contact details for editorial enquiries

Contact: 

Steffen Sander

Tel: +12013107363           

Email: steffen.sander@sandvik.com





www.sandvik.coromant.com

More from Material Processing