Injector Pumps feature dual check valve design.
Press Release Summary: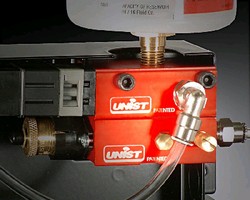 Available on Coolubricator(TM), Serv-O-Spray(TM), and Single Line systems, Uni-Max Pumps are designed for use with water-based, alcohol, vanishing, and other low lubricity fluids. Dual check valve design prolongs pump life by allowing consistent control of fluid displacement, so wear is minimized. Positive displacement pumps can be ordered in 1-drop or 3-drop output volumes as specification for new system, or to replace in-service systems when appropriate fluid types are being used.
---
Original Press Release:

UNIST, Inc. Introduces Dual Check Valve Uni-Max Pumps



Grand Rapids, MI: UNIST, Inc. introduces Dual Check Valve Uni-Max Pumps, developed to improve Uni-Max system performance with water-based, alcohol, vanishing and other low lubricity fluids. Dual check valve design prolongs life of injector pumps by allowing more consistent control of fluid displacement, so wear is reduced resulting in less maintenance. The positive displacement dual check valve injector pumps are available on Coolubricator(TM), Serv-O-Spray(TM), and Single Line systems. The pumps can be ordered in one drop or three drop output volumes as a specification for a new system, or to replace in-service systems when the appropriate fluid types are being used.

When UNIST Micro-Fluidization(TM) Systems are used to apply extremely small amounts of lubricant in manufacturing processes; UNIST, Inc. usually recommends a high efficiency fluid with good lubricity, such as Coolube® vegetable based lubricant. The company recognizes, however, that users sometimes have requirements which make it is necessary to apply other types of materials. While UNIST systems have always been able to apply nearly any type of lubricant in small quantities, the new Dual Check Valve Uni-Max pumps now make it possible to achieve even better system performance and reduce maintenance when low lubricity lubricants must be used.

Water based fluids cause system seals and o-rings to wear out more quickly than a fluid with high lubricity on the same system. When these parts begin to deteriorate, tiny amounts of fluid can leak back into chambers, reducing system precision. Maintenance to change out these small parts can be required as frequently as every 3-6 months, depending on usage. UNIST's patented dual check valve design prevents fluid backflow through the worn seals and o-rings so processes can continue for longer periods of time between maintenance.

When Coolube products are used exclusively with registered Uni-Max Systems, there is a lifetime warranty on all injector pumps. However, when water-based, alcohol, or vanishing fluids must be used in lubrication processes, Dual Check Valve Uni-Max Pumps should be specified for systems ordered.

Formed in 1957, UNIST, Inc. is the leader in the manufacture of fluid delivery systems designed to reduce fluid consumption, while improving operational efficiency, safety, maintenance and cost.

Contact info:
UNIST, Inc.
4134 36th St. SE
Grand Rapids, MI 49512
US and Canada (800) 253-5462
International 1-616-949-0853
Email unimail@unist.com
Web www.unist.com

Contact:
Shawn TeVelde, National Sales Manager
Email stevelde@unist.com

More from Electronic Components & Devices