Infrared Switch suits limited space, non-contact switching.
Press Release Summary: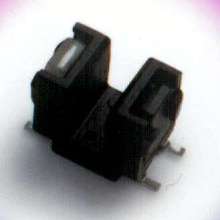 QVE00033 phototransistor infrared transmissive switch with miniature infrared sidelookers is for non-contact switching in disk drives, card detectors, and controllers. Optical switch has temperature resistant black plastic housing and is 7.50 x 4.05 x 5.40 mm. GaAs LED faces silicon phototransistor across 2 mm gap with 0.4 mm aperture. Peak transmission wavelength is infrared at 940 nm and operating temperature is -55 to 100°C.
---
Original Press Release:
Fairchild Introduces a New Miniature Surface-Mount Infrared Transmissive Switch Ideal for Non-Contact Switching Applications With Limited Space

San Jose, CA - March 24, 2003- Fairchild Semiconductor (NYSE: FCS) today announced the introduction of a new QVE00033 phototransistor infrared transmissive switch, featuring new miniature infrared sidelookers. The QVE00033 transmissive switch's small size, surface mount package, and performance make it ideal for non-contact switching applications in disk drives, card detectors, mouse and trackballs, and motor and motion controllers. In addition, optical, non-contact switching technology makes the QVE00033 more reliable, less expensive and more power efficient in many applications versus contact switches.

The QVE00033 comes in a temperature resistant black plastic housing with a compact 7.50mm by 4.05mm footprint and a 5.40 mm package height. A GaAs light emitting diode faces a silicon phototransistor across a 2mm gap with a 0.4mm aperture. The peak transmission wavelength is infrared at 940nm. Surface-mounting eliminates through-hole pins or wire leads and contributes to a lower profile. A daylight filter on the phototransistor improves immunity to ambient light. Collector current (ICON) is 100 µA min and 600 µA max, collector-to-emitter saturation voltage (VCE SAT) is 0.4V max, operating temperature (TOPR) is -55° to +100°C, and reflow soldering temperature is 240°C peak.

Price: US $0.65 (1,000 pcs)

Availability: Immediate delivery of volume production

For more information, contact Fairchild Semiconductor's Customer Support Center at (888) 522-5372, fax (972) 910-8036.

For general information about this product go to: www.fairchildsemi.com/infrared.

Fairchild Semiconductor International (NYSE: FCS) is a leading global supplier of high performance products for multiple end markets. With a focus on developing leading edge power and interface solutions to enable the electronics of today and tomorrow, Fairchild's components are used in computing, communications, consumer, industrial and automotive applications. Fairchild's 10,000 employees design, manufacture and market power, analog & mixed signal, interface, logic, and optoelectronics products from its headquarters in South Portland, Maine, USA and numerous locations around the world. Please contact us on the web at www.fairchildsemi.com.
Related