Infrared LED suits industrial and machine vision applications.
Press Release Summary: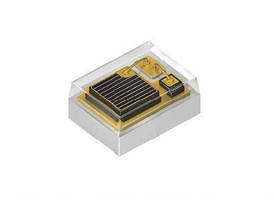 Housed in 1.6 x 1.2 x 0.8 mm package with 750 µm chip edge length, Model SFH 4710 delivers typical output of 270 mW from operating current of 500 mA. Device has emission angle of ±65° and does not need optics or reflectors, making it suitable for eye tracking and gesture detection. When injected into narrow-angle external optics, 850 nm IRED is suited for illumination in surveillance applications and for machine vision tasks such as pattern recognition and 3D measurement.
---
Original Press Release:

Osram Oslon Compact IRED Offers High Output in Small Package



Osram introduces super small and highly versatile infrared LED for industrial and machine vision applications



The new Oslon Compact infrared light-emitting diode (IRED) from Osram Opto Semiconductors closes the gap between high-power and low-power IREDs. It offers high output in a very small package, barely larger than the chip itself, and it can be used for applications such as surveillance, digital image processing, 3D measurement, pattern recognition and gesture detection.



The new infrared Oslon Compact – SFH 4710 – has been designed specifically for industrial applications. As a mid-power LED with a typical output of 270 milliwatts (mW) from an operating current of 500 milliamps (mA), it offers an output range midway between Osram's Power TopLED and Oslon Black IREDs, rounding out Osram's IRED product range.



The new SFH 4710 IRED includes a small but powerful chip with an edge length of 750 micrometers (µm) – half the footprint of standard chips in the Oslon Black family. With package dimensions of 1.6 mm x 1.2 mm x 0.8 mm, the Oslon Compact is not much larger than the chip itself and is one of the smallest in its output class. "Our new Oslon Compact has excellent heat dissipation properties and can operate at high currents," said Sevugan Nagappan, IR Product Marketing Manager at Osram Opto Semiconductors. "The high output is made possible with state-of-the-art thin-film chip technology and, combined with the small package, opens up numerous new applications, particularly where there is very little available space but performance demands are high. And, if required, components can be packed very close together to increase the optical output with a high degree of flexibility."



Applications with or without external optics

This infrared light emitting diode has an emission angle of +/- 65° and does not need internal optics or reflectors. Without external optics, the IRED perfectly covers the near-field range of a few meters and is very suitable for applications such as eye tracking and gesture detection.



Its light can also be successfully injected into narrow-angle external optics.  With external optics, it is ideal for illumination in surveillance applications and for machine vision tasks such as pattern recognition and 3D measurement because the wavelength of 850 nanometers (nm) is barely perceptible to the human eye but can be very easily detected by camera systems. 



Technical data for IR Oslon Compact SFH 4710:

Component size 1.6 mm x 1.2 mm x 0.8 mm

Beam angle +/-65°

Optical output (typical) 270 mW

Operating current 500 mA

Thermal resistance < 25 K/W

Wavelength 850 nm



http://www.osram-os.com/pr-SFH4710 



ABOUT OSRAM OPTO SEMICONDUCTORS

OSRAM GmbH of Munich, Germany is one of the two leading light manufacturers in the world. Its subsidiary, OSRAM Opto Semiconductors GmbH in Regensburg (Germany), offers its customers solutions based on semiconductor technology for lighting, sensor and visualization applications. Osram Opto Semiconductors has production sites in Regensburg (Germany) and Penang (Malaysia). Its headquarters for North America is in Sunnyvale (USA), and for Asia in Hong Kong. Osram Opto Semiconductors also has sales offices throughout the world. For more information go to www.osram-os.com.



Press Contact:

Kate Cleveland

Tel.  248-277-8018

Fax   248-596-0395

Email kate.cleveland@osram-os.com



Technical Information:

OSRAM Opto Semiconductors

Tel. 866-993-5211

Email info@osram-os.com

More from Electronic Components & Devices