Infrared LED Emitter supports medical applications.
Press Release Summary: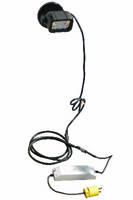 Featuring 4 LEDs sealed within extruded aluminum housing with unbreakable polycarbonate lens, 12 W Model LEDLB-4ET-IR-M-110V produces invisible infrared light in 850 or 940 Nm portion of light spectrum, depending upon configuration. Fixture is fully waterproof and rated to 3 m of submersion. Using 3 magnetic mounting pads, light bar can be securely attached to metal surfaces. Light is fitted with 6 ft of cord and inline transformer for operation with standard 110–120 Vac.
---
Original Press Release:

Larson Electronics Releases Medical Use Suitable Infrared LED Emitter



Larson Electronics has announced the release of a 12 watt infrared LED light emitter designed to provide output and operation suitable for medical applications.  The LEDLB-4E-IR-M-110V 110 Volt Medical Infrared LED Light Bar is provides those in the medical fields with a powerful and effective source of infrared light that can operate from standard wall outlets and be magnetically mounted to metallic surfaces for easy control and precise application.



The LEDLB-4ET-IR-M-110V 110 Volt medical infrared LED light bar from Larson Electronics is designed to provide professionals in the medical fields with high output source of infrared light in a versatile and easy to manage design. With current medical studies showing promising results from the use of infrared light in a variety of fields including dermatology and neurology, Larson Electronics has introduced this high power infrared LED light bar as an easy to operate infrared light source intended for application in these fields. This LED light bar produces invisible infrared light in the 850 or 940Nm portion of the light spectrum depending upon configuration, making it ideal for professionals utilizing these wavelengths in their treatment and therapy plans. This powerful infrared fixture also features a heavy duty extruded aluminum housing fitted with 4 LEDs sealed within the housing with an unbreakable polycarbonate lens. This fixture is fully waterproof and rated to three meters of submersion, and can withstand impacts from dropping that would cause traditional infrared lamps to shatter or fail. For added versatility and ease of use, Larson Electronics has fitted these units with three magnetic mounting pads. This lamp can be securely attached to just about any metal surface, making it ideal for applications where professionals need to easily move the unit to various locations for optimal coverage during specific applications. Since this a high power infrared light source and designed to withstand abusive conditions, this light is also perfectly suited to other applications such as military, law enforcement and security operations where infrared light is commonly used for covert operations. This light is fitted with 6 feet of cord and an inline transformer which allows operation with standard 110-120 VAC current typically available from common wall outlets. Users can also opt to disconnect the transformer and run the lamp directly from 12 or 24 volts DC current such as that available from vehicles. This dual power capability adds further versatility and when combined with its magnetic mounting allows professionals to easily use this light in mobile and vehicle mounted applications. The LEDLB-4E-IR-M-110V 110 is also available in spotlight or floodlight configurations, and provides professionals in fields ranging from medical to security the ability to quickly and easily provide a powerful source of infrared light anywhere it is needed.



"Operators can find value in our 120/277VAC powered IR LED light for non-destructive testing and analysis in manufacturing applications," said Rob Bresnahan with Larson Electronics' LarsonElectronics.com. "We can create a directed beam or wide flood beam, depending on the customer's requirements."



Larson Electronics produces a full range of industrial and commercial lighting equipment, military and law enforcement lighting, portable lights, LED spotlights, and heavy duty HID spotlights. To view the entire Larson Electronics line of high quality spotlights and work lighting solutions, visit them on the web at Larsonelectronics.com. You can also call 1-800-369-6671 to learn more about all of Larson Electronics' lighting products or call 1-214-616-6180 for international inquires.