InfoComm MEA 2014: Latest Matrox Graphics Products to Be Used by Industry Leaders to Drive Multi-Display Signage, Distribute AV-over-IP, and Capture/Display Video Wall Content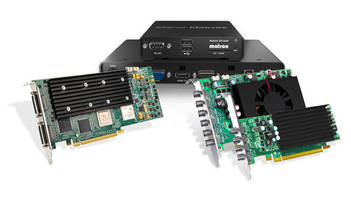 Visit Mitsubishi Electric and Net Display Systems in addition to Matrox Graphics to see Matrox C-Series, Matrox Maevex, and Matrox Mura MPX in action



Matrox C-Series multi-display graphics cards, Mura MPX capture and display boards, and Matrox Maevex H.264 encoders/decoders will be featured in action at InfoComm MEA.



MONTREAL — Matrox® Graphics Inc. today announced that Matrox C-Series, Matrox Maevex, and Matrox Mura MPX will be integrated by several industry leaders as key components within their digital signage and video wall demonstrations at InfoComm MEA 2014. Attendees are encouraged to visit Mitsubishi Electric (stand TA-A10) and Net Display Systems (stand TA-B36) in addition to Matrox Graphics (stand TA-F35).



Mitsubishi Electric B.V. — stand TA-A10

Matrox Mura MPX capture and display boards will be used within a Mitsubishi video wall controller alongside Mitsubishi's latest D-Wall 6.1 software. Visitors will have the chance to see how a high-density, low-footprint controller based on Matrox Mura technology can be used to display multiple inputs across multiple outputs with exceptional-quality scaling.



"Matrox Mura's unique feature set of stability, scalability, reliability, and input/output density, in conjunction with Mitsubishi's D-Wall software, results in impressive versatility that meets the need of any video wall integrator," said Alistair Duthie, Mitsubishi Electric regional manager of UK Middle East. "This hardware, software combination is ideal in any demanding environment requiring a high-performance video wall solution."



Mitsubishi will also be demonstrating Bilfinger Mauell's X Omnium TCP/IP-based visualization system. Maevex AV-over-IP encoders will be used to stream Full HD 1080p60 video from Matrox-connected sources like PCs onto a versatile visualization platform managed by X Omnium.



"The X Omnium adaptable visualization system effectively processes and allows for the analysis of information captured directly from such sources as PCs and DVRs ," said Paul Schiphorst, managing director at Bilfinger Mauell. "Enabling the distribution of high-quality, low-bandwidth content, Maevex acts as a perfect complement to X Omnium in this demonstration at InfoComm MEA and in a wide variety of other applications."



Net Display Systems B.V. — stand TA-B36

Long-time signage partner Net Display Systems will power a four-display 2x2 setup with a new Matrox C-Series multi-display graphics card, managing content with the firm's PADS4 digital signage software.



"These latest C-Series graphics cards deliver solid performance as well as the reliability we have come to expect from Matrox," said Net Display Systems CEO Wille Jan Bons. "Having successfully installed Matrox M-Series graphics cards many times in the past, we were excited to test out this new line of cards with our Smart Digital Signage, and would most definitely recommend C-Series to our customers seeking to drive digital signage across multiple displays."



Matrox Graphics, Inc. — stand TA-F35

Matrox C-Series, Maevex, and Mura MPX will also be demonstrated in the Matrox booth. The new Matrox C680 graphics card will drive a 3x2 portrait configuration with Flight Information Display (FIDS) Signage from Net Display Systems. Mura MPX will meanwhile drive four 55" LG 55LV75A monitors, featuring ultra-slim bezels for virtually seamless video walls.



About Matrox

Matrox Graphics is a global manufacturer of reliable, high-quality ASICs, boards, appliances, and software. Backed by in-house design expertise and dedicated customer support, Matrox products deliver stellar capture, extension, distribution, and display. Engineering high-quality products since 1976, Matrox technology is trusted by professionals and partners worldwide. Matrox is a privately held company headquartered in Montreal, Canada. For more information, visit www.matrox.com/graphics.



Media Contact:

Janet Matey

Media Relations Manager

Tel: +1 (514) 822-6037



Matrox and Matrox product names are registered trademarks and/or trademarks of Matrox Electronic Systems, Ltd. and/or Matrox Graphics Inc. in Canada and/or other countries. All other company and product names are registered trademarks and/or trademarks of their respective owners.

Related