Industrial Videoscopes suit limited access applications.
Press Release Summary: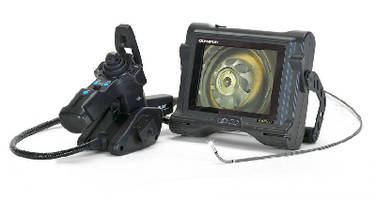 Complying with IP55 and MIL-STD-810F standards, IPLEX LX and IPLEX LT provide remote visual inspections of parts or structures where access is limited. LCD monitor, built into main operating unit, features 6.5 in. daylight-view screen that allows detection of small defects. In addition to on-site inspection, units provide image archiving, defect measurement, and image management on PC. JPEG still images and MPEG-4 movies record directly to removable USB flash drive.
---
Original Press Release:

Olympus Introduces the New IPLEX LX and IPLEX LT Industrial Videoscopes



Olympus is pleased to announce the introduction of the new IPLEX LX and IPLEX LT industrial videoscopes. These new small and lightweight videoscopes, which are used for a wide range of remote visual inspections of parts or structures where access is limited, offer portability, ease of use, durability, and a host of practical features.

The IPLEX LX and LT are the most compact and lightweight of the IPLEX systems. They are one-third the size and approximately half the weight (2.7 kg, including battery) of the IPLEX FX, the most recent Olympus videoscope introduced. The reason for this small size is that the LCD monitor is built into a main operating unit that is just 64 mm width (2.5 in.) excluding the handle. The LCD monitor uses a large 6.5-inch screen with low ambient reflection, permitting accurate inspection even outdoors in direct sunlight. The size and weight makes the new IPLEX units ideal for applications where operator access is limited, such as inside boiler rooms, airplane fuselages, or wind turbine gear boxes.

The IPLEX LX and LT provide rugged durability in harsh environments. They comply with IP55 standards and with United States Defense Standards MIL-STD-810F, Method 510.4/506.4 for resistance to dust and rain, and with MIL-STD-810F, Method 516.5 for the 1.2-meter drop test. They can be operated safely in many difficult field environments and in dusty or sandy conditions.

The IPLEX LX and LT can be operated by users of any experience level. Almost every menu and feature can be accessed by a maximum of three presses of the quick-access buttons on the ergonomic lightweight handset with power-assist TrueFeel(TM) scope articulation control. The display features an intuitive icon-based menu that makes it easy for the operator to quickly select the right menu option.

Although small in size, the IPLEX LX and IPLEX LT do not compromise performance or functionality. They provide excellent color reproduction and superb clarity on the industry-leading 6.5 in. daylight-view monitor that allows detection of very small defects. The IPLEX LX also features the unique WiDER(TM) (Wide Dynamic Extended Range) image processing capability that brings out detail in shadowed and highlighted areas to produce bright, contrast-balanced images across the entire depth of field. For optimum magnification, the new units offer a comprehensive range of interchangeable optical tip adapters. The integrated LED system fitted within the optical tip adapter delivers vivid illumination regardless of scope length and eliminates the need for a fiber light guide. In addition, the unique SmartTip(TM) feature permits recording of adapter information along with captured images for inspection traceability, ease of set up, and confirmation of tip security.

The IPLEX LX and LT also offer far more than just on-site inspection. From image archiving to defect measurement and image management on a PC, post-inspection tasks are made easier. They feature high-quality JPEG still images and MPEG-4 movies that record directly to a removable USB flash drive. Saving or retrieving images requires a single button press while the thumbnail view allows instant review of inspection results. The free of charge IPLEX Viewer-Plus software features image data management and precise measurement (or re-measurement) of objects in recorded images. The IPLEX LX will soon offer the advanced Olympus-pioneered Stereo Measurement technology that enables high-resolution image capture with two parallax lenses, permitting accurate measurement of almost any object from any angle.

With the introduction of the IPLEX LX and IPLEX LT industrial videoscopes, Olympus is setting a new standard in Remote Visual Inspections (RVI). It is the combination of superb ease of use with outstanding functionality that makes these small and lightweight units a valuable asset for inspectors who need a videoscope that is both affordable and practical.

About Olympus NDT

Olympus NDT is a world-leading manufacturer of innovative nondestructive testing instruments that are used in industrial and research applications ranging from aerospace, power generation, petrochemical, civil infrastructure and automotive to consumer products. Leading edge testing technologies include ultrasound, ultrasound phased array, eddy current, and eddy current array. Its products include flaw detectors, thickness gages, in-line systems, automated systems, industrial scanners, pulser-receivers, probes, transducers, and various accessories. Olympus NDT is also a distributor of remote visual inspection instruments and high speed video cameras in the Americas. Olympus NDT is based in Waltham, Massachusetts, USA, and has sales and service centers in all principal industrial locations worldwide.

For more information please contact:

Meindert Anderson

Corporate Marketing Communications Manager

(1) 781-419-3562

meindert.anderson@olympusNDT.com

Web: www.olympus-ims.com