Industrial Pump has Kalrez® perfluoroelastomer diaphragm.
Press Release Summary: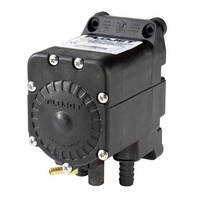 Engineered for applications such as chemical transfer, parts washers, ink transfers, and car wash systems, G57C features Kalrez® diaphragm and check valves that incorporate O-rings made from Viton® Extreme(TM) fluoroelastomer. Air operated, industrial pump, with double diaphragm design, can supply up to 5.0 gpm. Kalrez perfluoroelastomer provides chemical resistance in all types of acids, hydrocarbons, amine inhibitors, glycols, and methanol.
---
Original Press Release:

Flojet Introduces the Ultimate Chemical Resistant Industrial Pump; the New G57C with a Kalrez Perfluoroelastomer Diaphragm



Santa Ana, CA (January 6, 2009) - ITT-Flojet (www.flojet.com), the recognized leader in the industrial pump industry, has just announced the new G57C air operated, industrial pump with a Kalrez® perfluoroelastomer diaphragm from DuPont Performance Elastomers. Engineered for ultimate performance and reliability, this Flojet industrial pump provides long lasting chemical resistance in applications such as chemical transfer, parts washers, ink transfers, and car wash systems.

The robust design of the G57C combined with its innovative features and Flojet's relentless testing allows the pump to provide a long, trouble-free service life. The pump incorporates all the great features and benefits expected from Flojet products - and now it's fitted with Kalrez parts. The uniquely designed check valves incorporate O-rings made from Viton® Extreme(TM) fluoroelastomer. Its high performance capabilities have been combined to accomplish the ultimate in compact air operated, double diaphragm pump technology. The Model G57C Pump can supply up to 5.0 GPM (18.9 /min.) and the high air inlet pressure capability delivers fluid at the needed flow and pressure.

Kalrez parts belong to a class of rubbers called "perfluoroelastomers" meaning that all bond sites on the elastomer backbone and side chains have a fluorine atom bonded to it. This lends the chemical resistance of Teflon® to a rubbery-like material. Kalrez provides the ultimate in chemical resistance in all types of acids, hydrocarbons, amine inhibitors, glycols, and methanol.

The Flojet Model G57C Pump is available now. Contact your local retailer or dealer for more information, or visit us at www.flojet.com.

ITT - Flojet

ITT - Flojet (www.flojet.com) is a leading manufacturer of small motors, diaphragm pumps, searchlights, valves and value added systems, used for RV, Industrial, and Beverage applications. Headquartered in Santa Ana, California, Flojet products are sold worldwide through sales representatives and authorized distributors. Flojet is part of ITT Corporation.

ITT Corporation

ITT Corporation (www.itt.com) is a diversified high-technology engineering and manufacturing company dedicated to creating more livable environments, enabling communications and providing protection and safety. The company plays an important role in vital markets including water and fluids management, global defense and security, and motion and flow control. Headquartered in White Plains, N.Y., the company ITT employs approximately 40,000 people and generated $9 billion in 2007 sales.

To learn more about ITT Corporation and its products, log on to flojetnews.com.

Flojet
666 E. Dyer Road,
Santa Ana, CA 92705 USA
Tel: +1 714 557 4700
Fax: +1 714 628 8478

Bingley Road, Hoddesdon,
Hertforshire IN11 OBU,
United Kingdom
Tel: +44 (0) 1992 450 145
Fax: +44 (0) 1992 467 132

More from Transportation Industry Products