Industrial / Specific Purpose Computers
Industrial PCs utilize 1.86 GHz dual-core processor.
Press Release Summary: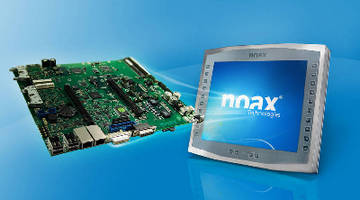 Available in IP65-IP69 protection classes, noax Industrial PCs are equipped with 8 GB RAM and DirectX-10-compatible graphics controller, which allows user to display complex processes or CAD files in 3D. Flexible plug setup with 2 PCI slots allows user to choose between PCI Express and normal PCI bus. Multiple physical hard drives, organized according to RAID functionality, can be installed at any time. Additional features include 2 Gigabit Ethernet interfaces, SIM card slot, and 6 USB ports.
---
Original Press Release:

noax IPCs with New Mainboards - Increased Efficiency, Better Performance



Effective immediately, noax industrial PCs will be equipped with new motherboards that increase efficiency and performance with a range of new components and features. A special highlight of this next generation is the new series of noax IPCs with dual-core processors and a flexible plug design including two PCI express slots. The new components within the hardware offers better graphics, improved security when saving data and increased overall performance, among other enhancements. The new noax motherboard is also perfectly suited for use with the Windows 7 operating system.

Improved efficiency, better performance, increased security - those were the objectives noax set out to achieve when developing this new motherboard. The hardware manufacturer from Ebersberg (near Munich) not only designed the motherboard in-house but also equipped it with a number of new components that reflect the latest technological advancements. Together they deliver optimal results. The latest generation of industrial PCs from noax will be able to meet the lofty demands of industrial hardware for years to come.

Faster processing speeds, better graphics

The heart of the noax IPC, a 1.86-GHz dual-core processor, delivers more than enough computing capacity for modern industrial operations. These new processors will even increase overall performance when used with complete production control systems or complex process visualization configurations. Speed is provided by 8 GB of RAM operating in dual-channel mode. Especially for visualization tasks the new noax hardware has a high-performance DirectX-10-compatible graphics controller. This allows users to clearly display complex processes or comprehensive CAD files in 3D. The increased performance and improved ergonomics ultimately benefit users by making operating procedures more efficient.

Flexible plug design means a secure investment for a secure future

To accelerate communication between noax industrial PCs and peripheral devices, the new generation of IPCs offers a flexible plug setup that allows you to choose between the high-performance PCI Express and the normal PCI bus. There are two PCI slots - one for PCI and one for PCI Express - or two PCI Express slots. This configuration can also be adapted in the future by simply swapping out the slots to meet changing needs. Users benefit from the flexibility of being able to continue using existing PCI components without having to forego the performance of PCI Express cards. noax industrial PCs therefore secure the longevity of your technology investment.
Performance was also a priority when designing the network connectivity of the new IPCs. The new noax mainboards have two Gigabit Ethernet interfaces that are connected to the chip set via PCI Express slots. The double connection has many advantages, particularly for industrial applications. On the one hand, users can double Ethernet speeds by bundling. On the other, networks can be separated, for example a company network from a plant network. The redundant connection also increases security. If one connection fails, data transmissions will be automatically continued without interruption through the other connection.

Increased system stability

Security plays a massive role when it comes to storage media. noax has thus made it possible to install multiple physical hard drives at any time, all organized according to RAID functionality. If individual components fail, the RAID setup maintains overall integrity and functionality, therefore guaranteeing continued IPC operation. Communication between the hard drive and the processor is driven by SATA technology, which not only ensures high data rates but also enables the exchange of storage media during operation. This further reduces the already minimal failure risk of your noax IPC.

More flexibility and control

Many users in agriculture and forestry, for instance, want to transmit data via radio communications over long distances. The developers at noax took this into consideration, equipping the new IPCs with a SIM card slot for UMTS and GSM data cards. For data transmission over short distances, in a warehouse for example, the IPC's IEEE 802.11 b, g and n standard WLAN connection will suffice.

In addition to the performance features, the new noax mainboards also come equipped with proven components such as a microcontroller, which automatically adjusts the brightness of the display and monitors other parameters such as voltage and temperature. Different power supply cables ensure that the noax IPC can handle voltages between 9 and 240 V.

The new noax mainboard has a total of six USB ports, two of which run on stand-by power. This means that a device connected via USB to your IPC will still be supplied with power if your IPC is turned off. This is a handy feature if you want to charge the battery on a barcode scanner after shutting down the IPC, for example.

Rugged and reliable

Despite possessing a wealth of complex technology, noax's new industrial PCs have lost none of the ruggedness of earlier models. All noax IPCs are still available in protection classes IP65 to IP69. Neither dust nor liquids can endanger the interior components. All of noax IPC components are attached without cable connections. Even powerful vibrations do not affect the operation of these devices. New noax IPCs also remain very flexible with regard to operational environment. They function equally well at a frosty -30°C as they do at +45°C. Overall the new generation of IPCs offers a perfect combination of performance components and state-of-the-art technology. That is why noax industrial PCs are a secure investment for your future.

For more information go to: www.noax.com.

About noax Technologies AG

noax Technologies AG is one of Europe's leading providers of durable industrial PCs. The company has years of experience in the proprietary development and production of completely sealed systems. noax also offers its customers a full spectrum of services ranging from consultation and sales to installation and comprehensive support. noax IPCs are used all over the world in the most demanding of industrial environments. These robust terminals prove themselves on a daily basis against heat, cold, moisture, dust, vibration, shock, acid and lye.

More from Packaging Products & Equipment