Industrial / Specific Purpose Computers
Industrial PCs have panel-mounted depth of less than 3.0 in.
Press Release Summary: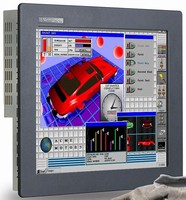 Suited for HMI and SCADA applications in harsh environments and hazardous locations, RoHS-compliant ePC-Series is comprised of 15 in. XGA (ePC1500), 17 in. SXGA (ePC1700), and 19 in. SXGA (ePC1900) LCD versions. Each features 5-wire analog resistive touchscreen, 100-240 Vac input power supply, and NEMA 4/4x/12 panel mountable front panel. Supporting up to 2.0 GHz Intel Core Duo processor and 2 GB DRAM, PCs offer CompactFlash socket and range of I/O.
---
Original Press Release:

Nematron Introduces New ePC-Series Industrial PCs



"Changing the Definition of Industrial PC"

Ann Arbor, Michigan - February 8, 2008 - Nematron Corporation announces the launch of the new ePC-Series of Industrial Computers. These new computers change the definition of Industrial PCs. With their Ultra-thin yet powerful design, unparalleled value, and superb quality at a competitive price they eliminate the "big, bulky, and expensive" definition usually associated with Industrial PCs. There are currently three sizes, 15", 17", and 19" in this series with more additions to follow. All are available with 5-wire Analog Resistive touchscreens and NEMA sealed panel mount front panels. Their ultra-thin size and very thin panel mounted depth of less than 3.0" (76.2mm) make them ideal for installation in harsh environments, especially hazardous locations.

"Our goal in designing the new ePC-Series computers was to provide the product quality of a traditional industrial computer while providing a small yet powerful size at a very competitive price that many applications desire," explains Ralph Damato, VP - Product Management of Nematron. "With the ePC-Series' ultra-thin design, powerful processor offerings, and extensive I/O we have accomplished our goal and are very excited about the resulting products. We are planning to further enhance our product offerings utilizing this same methodology," continues Damato.

The ePC-Series computers include 15" (ePC1500) XGA, 17" (ePC1700) SXGA, and a 19" (ePC1900) SXGA LCD version. All versions are standard with 100-240 VAC input power supplies, have NEMA 4/4x/12 panel mountable front panels, and are less than 3.0" deep when panel mounted. Stainless Steel front panels, Solid State non-rotating hard drives, and 24 Volt DC input power are available options for all three. The included CompactFlash socket and extensive I/O eliminate the need for bulky expansion slots and unreliable rotating CD-ROMs and floppies. I/O ports included on every unit include; two 10/100/1000 Ethernet , one RS-422/485, two RS-232, four USB 2.0, PS/2, and even an external Video connection that supports dual display with extended desktop. With options up to an Intel Core Duo 2.0 GHz processor and 2 GB DRAM the ePC-Series provides enough processing power to run the most complex HMI and SCADA applications. To top this all off the SATA hard drive can be easily removed without any cable connections.

All sizes of the ePC-Series will have UL and cUL 508 as well as Class I Division 2, RoHS, and European CE approvals, making system integration a breeze for virtually any application and/or location. The ePC-Series is worth investigating for your application, you will not be disappointed. For more information contact Nematron at info@nematron.com or visit them at www.nematron.com.

About Nematron
Nematron has produced heavy-duty, high reliability Industrial Automation Products for nearly 30 years. Nematron operates in North America from its headquarters in Ann Arbor, Michigan and from their European office in England. Complete service and repair capabilities for current and legacy products are offered from their Ann Arbor Michigan location. For sales or technical support on any of their hardware or software products call (734) 214-2000 in North America and +44 23 9226 8080 in Europe. Additional information can be obtained by consulting www.nematron.com.