Induction Heating Successfully Used by Ultraflex to Cut Time and Costs for Shrink Fit Part Removal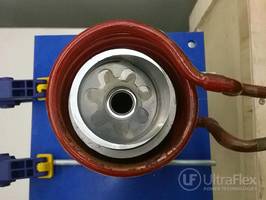 In a recent customer-requested demo application, UltraFlex Power Technologies - a leading manufacturer of digitally controlled induction heating systems - successfully used induction heating to complete Shrink Fit part removal, at 4 times less time than set as target by the customer.
The customer aimed at reducing the time and efforts for accomplishing a shrink fit part removal process for an aluminum pump housing part with outside diameter of 2.885" (73.279mm) and wall thickness of 0.021" (.533mm), by replacing the press-based pushing of the part with induction heating. The target time to complete the process was 7 minutes.
To carry out this induction heating test, UltraFlex used an Ultraheat UPT-S5 5 kW Power Supply along with an HS-4 Heat Station. UltraHeat S Series are small and economical induction heaters which operate with water-cooled or air-cooled remote heat station. The part was placed inside a custom-designed induction coil, so the top of the housing would be as close as possible to the top of the coil.
At power of 2.9 kW and target temperature of 400°F (204°C), it took 100 seconds - less than a quarter of the time the customer set as target - for the external part to expand sufficiently and let the inside piece to be removed.
Further tests using lower-power induction system were done to evaluate whether another induction heating device could also be used for this heating process. Slower heating, however, would result in heating and expanding the inside part as well, which would then remain stuck.
The series of tests conducted proved that the successful shrink fit removal process could only be accomplished at rapid heating rate, using a 5 KW UPT S-5 induction heating unit. For shrink fit part insertion, a lower power system would be acceptable.
The replacement of the press-based process with induction heating-based process resulted not only in considerable time cut, but also in precise control of the time and temperature. Thanks to using power on demand with rapid heat cycles, the process was also energy- and cost-efficient. In addition, the induction-based shrink fit removal process was repeatable, with no dependency on the operator skills. Finally, an induction-based process is completely safe, with no open flames.
Find out more at: https://ultraflexpower.com/
About UltraFlex Power Technologies:
UltraFlex Power Technologies (ultraflexpower.com) offers the most advanced and innovative digitally controlled induction heaters in the industry. Its compact modular and flexible systems are suitable for a wide variety of induction heating, casting and melting applications.
Contact:
+1.631.467.6814
uptnews@ultraflexpower.com
Related