Servo Motor Controllers and Drives
Indexing Drive is offered with 2-32 stops.
Press Release Summary: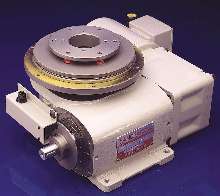 Alpha Series low profile indexing drive, offered with input and output characteristics that meet/exceed indexing requirements, is available with ±30 arc seconds accuracy. Series incorporates double row tapered roller bearings, cast iron housing, and custom-made seals that retain oil and keep contaminants out. Offerings include variable frequency inverter and seven I/O center shaft distances: 70, 90, 110, 150, 230, 330, and 450 mm.
---
Original Press Release:

Bigger Cam Follower Sizes for Greater Load and Life Capabilities with a Repeatability of 30 Arc Seconds is Now Available from Sankyo America


Sankyo America's Alpha Series is a low profile indexing drive with input and output characteristics that meet, or exceed most common indexing requirements. The Alpha Series has the widest range of standard index periods, # of stops, and sizes available today. The oversized cam followers are custom manufactured to fit our cam, which offers extremely rigid, smooth and accurate indexing. Standard accuracy on any Alpha Series is ±30 arc seconds with higher accuracies available upon request. The double row of tapered roller bearings supports our turret, while the cast iron housing offers a solid and accurate system over greater temperature ranges. The custom made seals has 5-8 times more surface area, which means the oil stays in and contaminants stay out. The standard machined through hole and stationary center post offers the assembler more options when considering tooling and wiring. A full line of "easy to use" torque limiters are available to protect your investment. The Alpha Series has been designed to meet the most rigorous cycle on demand applications. The extra large cam followers offer greater load and life capabilities. This precision indexer (±30 arc seconds) has the widest range of sizes, stops and index periods available today. Our enhanced sealing system keeps the oil in and contaminants out!

FEATURES

o Variable Frequency Inverter comes standard. No more dirty clutch/brake components or other wearable replacement parts
o Rigid output surface for directly mounting dials.
o Input/output Center shaft distances available in seven standard sizes: 70, 90, 110, 150, 230, 330, and 450 mm.
o Wide selection of stops: 2 to 32 (specials are available)
o Rigid large flange surface
o Standard hollow fixed shaft inside output flange.
o Can be mounted with up to 3 pairs of timing cams and sensors.
o Optional Torque Limiters for output shaft.
o Standard hollow output shaft type hypoid geared motor with AC Variable Frequency inverter controller.
o Low profile housing


Model                         7AD       9AD      11AD       15AD       23AD      33AD     45AD

Geared motor power (kW)	   0.1/0.2    0.2/0.4  0.4/0.75   0.75/1.5    2.2/3.7   5.5/7.5   11/15

Timing cam and photo switch         Can be installed up to 3 sets on input shaft

Number of stops	                          2,3,4,5,6,7,8,10,12,15,16,20,24

Optional torque limiter	     7TAD	9TAD	 11TAD	    15TAD      23TAD      --       --

Input shaft speed (rpm)	                                0~200

For more information contact:

Sankyo America, Inc.
10655 State Route 47
Sidney, OH 45365-4338

Phone: 937-498-4901
Or visit our web site: sankyoamerica.com