Indexable Cutting Tools feature hybrid coating technology.
Press Release Summary: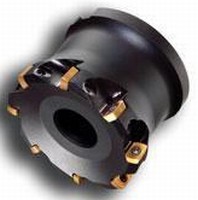 Available in straight shank, modular, and face mill styles, IASR/ASR MULTI Indexable Cutting Tools utilize inserts coated with JX Coating, a PVD coating that incorporates particles with self-lubricating characteristics that lend to optimized hardness, heat-resistance, and chipping resistance. Products have rigid mill design and are designed to perform well at feed rates over 787 ipm. Sizes range from 3/8-2½ in. and 16-66 mm.
---
Original Press Release:

Indexable Cutting Tools Feature World's First Hybrid Coating Technology



Novi, MI, May 31, 2006 - At IMTS 2006, Hitachi Metals America, Ltd. - Cutting Tools Group will introduce to the North American market the new IASR/ASR MULTI Indexable Cutting Tools featuring inserts coated with the world's first Hybrid Coating Technology.

The IASR/ASR MULTI Indexable Cutting Tools utilize inserts coated with Hitachi's new JX Coating; a new PVD coating that incorporates particles with enhanced self-lubricating characteristics. Lubricity as well as hardness, heat-resistance, and chipping resistance are vastly improved over previous coatings.

The JX Coating improves machining efficiency and tool life for high-speed, high-feed-rate roughing and semi-roughing of general and pre-hardened steels. The IASR/ASR MULTI with JX Coated inserts was designed to take advantage of today's most advanced machine tools, and performs well at feed rates higher than 20m/min (787ipm).

The IASR/ASR MULTI Indexable Cutting Tools feature a rigid mill design, and are available in straight shank, modular and face mill styles. Sizes range from 3/8" to 2-1/2" in inch sizes and 16mm to 66mm in metric sizes. One insert fits all diameters and styles.

Hitachi will be exhibiting the IASR/ASR MULTI as well as their complete line of highperformance cutting tools at IMTS in booth E-2182. For more information on the IASR/ASR MULTI or any other Hitachi Tool products, please contact Hitachi Metals America, Ltd. - Cutting Tools Group at 800-333-1514 or visit their website at www.hitachitoolusa.com.

ABOUT HITACHI METALS AMERICA, LTD - CUTTING TOOLS GROUP: Hitachi Metals America, Ltd. is the North American arm of the Tokyo-based Hitachi Metals Group. The Cutting Tools Group sells and supports the high-performance Indexable and Solid Carbide cutting tools manufactured by Hitachi Tool Engineering, Ltd.

For More Information:

Public Relations:
Keith Booton
President
Boost Marketing, LLC
123 Front Street, Suite 208
Wheaton, IL 60187
Tel: 800-689-6751 x801
Fax: 630-344-0924
Email: kbooton@boostmktg.com
Website: www.boostmktg.com

General Information:
Ken Miyamoto
Group Manager
Hitachi Metals America, LTD. -
Cutting Tools Group
41800 W. Eleven Mile Rd. Suite 100
Novi, MI 48375
Tel: 800-333-1514
Fax: 248-465-6020
Email: ken.miyamoto@hitmet.com
Website: www.hitachitoolusa.com

More from Electronic Components & Devices