Inch Size Rulers have self-adhesive design.
Press Release Summary: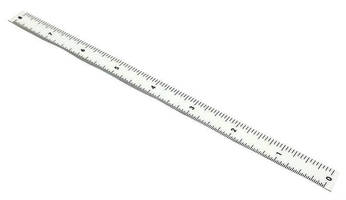 Available in inch sizes, GN 711 Self-Adhesive Rulers provide measurement markings for use in pharmaceutical, packaging, and food industry applications. These RoHS-compliant products come in 3 versions: stainless steel with .02 in. thickness and etched scale; white plastic with .01 in. thickness, silver highlighting, and printed scale; and transparent plastic with .01 in. thickness and scale printed. Different scale sequences are available for each version.
---
Original Press Release:
Inch Size Self-Adhesive Rulers Available from J.W. Winco, Inc.
NEW BERLIN, WI – J.W. Winco, Inc., a leading supplier of standard industrial machine components, announced it now offers GN 711 Self-Adhesive Rulers in inch sizes.

These RoHS-compliant rulers are used to provide measurement markings in a variety of applications on machine tools, woodworking equipment, etc., in industries such pharmaceutical, packaging, and the food industry. They are offered in three versions: stainless steel, .02" thickness, scale etched; white plastic, .01" thickness, highlighted in silver, scale printed; and transparent plastic, .01" thickness, transparent, scale printed. Each version is available also in five different scale sequences.

To apply the GN 711 ruler, remove the protective strip on the back and affix to the surface. A strip of plastic film also protects the engraved side of the stainless steel version. Also available are GN 711.1 Indicator Arrows, in each of the three different materials.

J.W. Winco offers an extensive selection of inch and metric size adjustable levers, cabinet U-handles, plastic and steel hinges and locking mechanisms, revolving and retractable handles, hand wheels, hand cranks, tube connection and conveyor components, inch and metric construction tubing, shock absorption mounts, leveling mounts, hand knobs, spring, ball and indexing plungers, jig, fixture and fastening components, retaining magnet assemblies, toggle clamps, metric casters and wheels, universal joints, oil sight glasses, and metric tools for the industrial and commercial equipment industries. J.W. Winco's website catalog, with 3D CAD and online buying, is viewable at www.jwwinco.com.

For more information, contact J.W. Winco at 800-877-8351, by fax at 800-472-0670, on the Web at www.jwwinco.com, and via e-mail at sales@jwwinco.com.
More from Electrical Equipment & Systems