Impact Protection Material is soft, lightweight, flexible.
Press Release Summary: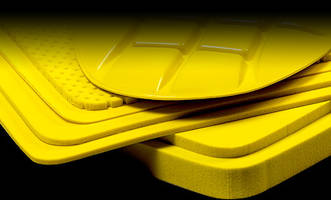 Suited for designers of outdoor apparel and sports equipment, PORON® XRD(TM) creates layer of wearable protection that absorbs more than 90% of energy upon repeated impact and will not constrict freedom of movement or range of motion. Material delivers shock absorption and protective cushioning and can be used in manufacture of helmets, safety boots, knee and elbow pads, chest protectors, and more without sacrificing comfort and mobility.
---
Original Press Release:
Rogers Introduces Poron XRD Extreme Impact Protection Material for Individual and Team Sportswear & Equipment
Rogers, CT - Designers of outdoor apparel and sports equipment now have a new protective technology at their disposal - a unique material from Rogers Corporation that provides superior repeated impact protection while preserving comfort and mobility. PORON ® XRD (TM) Extreme Impact Protection raises the bar for shock absorption and protective cushioning. Rigorous testing confirms that PORON ® XRD (TM) material absorbs more than 90 percent of energy upon repeated impact. This new technology creates a layer of wearable protection that not only absorbs more energy than other alternatives, but is soft to the touch, lightweight, and contouring. Because it's lightweight and flexible, like a "second skin," PORON XRD protection will not constrict freedom of movement or range of motion, allowing athletes to achieve their peak performance level. This unique combination of features makes the material ideal for a wide range of applications that demand motion and impact protection, including helmets, ski racing and motorcycle suits, safety boots, knee and elbow pads, chest protectors and more. Exceeding typical impact performance, PORON XRD materials offer the consistency and reliability of PORON brand foams that designers have depended on for over 50 years. Designers continue to choose PORON materials because they provide reliable performance across a wide range of temperatures, and offer important benefits such as flame retardance, ease of fabrication, and superior resistance to collapse upon compression. For more information on PORON XRD protection and the full range of PORON urethanes visit www.poronxrd.com or www.poronurethanes.com. About Rogers Corporation Rogers Corporation (NYSE:ROG), headquartered in Rogers, CT., is a global technology leader in the development and manufacture of high performance specialty material products for a variety of applications in a wide range of markets including: portable communications, consumer products, communication infrastructure, ground transportation, and aerospace and defense. Most of the Company's products are covered by trade secrets or patents. Rogers operates manufacturing facilities in Arizona, Connecticut, and Illinois in the U.S., in Gent, Belgium and in Suzhou, China. Asian sales offices are located in Japan, China, Taiwan, Korea, India and Singapore. Rogers has joint ventures in Japan and China with INOAC Corporation, in Taiwan with Chang Chun Plastics Co., Ltd. and in the U.S. with Mitsui Chemicals, Inc. The world runs better with Rogers.® www.rogerscorp.com
More from Fluid & Gas Flow Equipment