Imaging and Testing Targets suit machine vision applications.
Press Release Summary: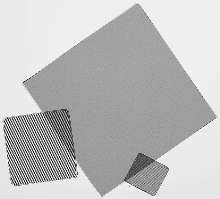 High Precision Ronchi Rulings are constructed from vacuum deposited chrome on a soda lime glass substrate. Substrate is 1.5 mm thick, exhibits surface flatness of 1 wave per inch, and has surface quality 60-40. Toleranced targets, with line to line parallelism of less than 2 arc seconds, are available in sizes from 1-4 in.² with resolutions from 50-5,000 linepairs per inch. Applications include microscopy, schlieren metrology and moire topography.
---
Original Press Release:

Edmund Optics Announces New High Precision Ronchi Rulings


July 31, 2003, Barrington, NJ - Edmund Optics, Inc. (EO) of Barrington, New Jersey has announced the addition of High Precision Ronchi Rulings to its selection of imaging and testing targets.

These chrome-on-glass ronchi rulings are ideal for the evaluation of resolution, distortion, and depth of field in a number of optical systems. These highly toleranced targets (line to line parallelism <= 2 arc seconds) are available in several sizes (1" square to 4" square) and with varying resolutions (from 50 linepairs per inch to 5,000 linepairs per inch), making them useful for applications ranging from microscopy and machine vision to schlieren metrology and moire topography.

These rulings are constructed from vacuum deposited chrome (optical density > 3.0) on a soda lime glass substrate (thickness 1.5mm; surface flatness 1 wave per inch; surface quality 60-40). Tight tolerances and economical prices make them ideal tools for OEM integration.

About Edmund Industrial Optics Inc.
Edmund Optics (EO) has been a leading supplier of optics and optical components to the industry since 1942, designing and manufacturing a wide array of multi-element lenses, lens coatings, imaging systems, and opto-mechanical equipment. EO is application-focused and pursues new ways to implement optical technology, enabling advancements in semiconductor manufacturing, industrial metrology, and medical instrumentation. Our staff and facilities span the US, Europe, Singapore, Japan, and China. EO's skilled optical engineers design precision products for use in research, test & measurement applications, and for the automation of manufacturing processes. Visit www.edmundoptics.com to learn more.

Contact:

James E Liolin
Lion Associates
Marketing Communications
914-670-0138
jliolin@lionadv.com

Jeff Harvey
Marketing Manager
Edmund Industrial Optics
856-573-6250 ext. 6825
jharvey@edmundoptics.com

More from Fluid & Gas Flow Equipment