iFD 2.0 Stator comes with improved fluid flow.
Press Release Summary: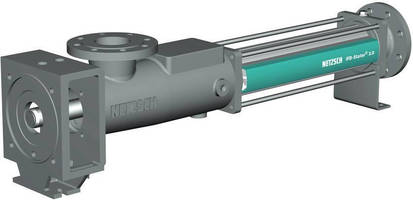 Using two-part, reusable stator housing and replaceable stator, iFB 2.0 Stattor is compatible with all NEMO NM series progressing cavity pumps. Providing compression free assembly and disassembly, unit's defined compression is automatically generated when the elastomer collar is fastened. Offering considerable increase in efficiency due to reduced starting and running torque, product is suitable for difficult pumping applications.
---
Original Press Release:
NETZSCH Introduces iFD-Stator® 2.0 for Reduced Energy and Maintenance Costs
Stator provides significantly improved efficiency over other stator designs.

NETZSCH Pumps North America, LLC, experts in solutions designed specifically for difficult pumping applications, has introduced the new iFD-Stator® 2.0, which combines efficiency, economy and environmental safety in one unique system. Featuring a two-part, reusable stator housing and replaceable stator, the iFD-Stator 2.0 is compatible with all NEMO® NM® series progressing cavity pumps.

Changing the stator within the housing is remarkably easy, with simple, compression free assembly and disassembly; the defined compression for the iFD-Stator 2.0 is automatically generated when the elastomer collar is fastened. The new housing concept of the iFD-Stator 2.0 is easier to handle than the previous generation and delivers a longer service life than competing options, leading to reduced downtime and maintenance.

The iFD-Stator 2.0 delivers reduced pulsation and improved fluid flow compared to conventional stator design, as well as a considerable increase in efficiency due to reduced starting and running torque. There is no limitation of speed or pressure when measured against the standard stator, and the axial mobility of the elastomer leads to a prolonged service lifetime.

Replacement of the stator costs less than with traditional stator designs and is more environmentally friendly because the housing can be reused. Overall, the iFD-Stator 2.0 delivers a reduced life cycle and energy costs over other stator designs.

NEMO progressing cavity pumps are known for their continuous, pressure-stable, gentle and low-pulsation conveyance of almost any process fluid without being affected by fluctuations in pressure and viscosity. The pump is available in eleven styles with four rotor/stator geometries and a selection of engineered joints that can be tailored to suit specific applications. Conveyance volumes can be configured in proportion to rotation speed, with high dosing precision over the entire rotational-speed range.

About NETZSCH Pumps & Systems

NETZSCH Pumps & Systems has served markets worldwide for more than 60 years, providing customized, sophisticated solutions for applications in every industry type. Experts in solutions designed specifically for difficult pumping applications, NETZSCH supplies NEMO® progressing cavity pumps, TORNADO® rotary lobe pumps, and NOTOS™ multi screw pumps, as well as grinding machines, barrel emptying units, dosing technology and accessories. With a workforce of more than 2,000, NETZSCH Pumps & Systems is the largest business unit in the NETZSCH Group, with annual sales of more than 250 million Euros during the 2015 fiscal year.

For more information contact:

Kristin Nugent
McNeil, Gray & Rice Inc.
(617) 367-0100, ext.148
Kristin.nugent@mgr1.com
Related