IC Test Clips are sized for use in electronics.
Press Release Summary: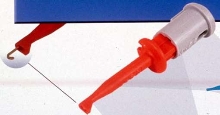 General-purpose MiniPro(TM) series test clips, suited for circuit and basic test interconnections, feature smooth, soft touch actuation and gold-plated beryllium copper hooks. Offered in 10 colors, series features secure, snap-lock assembly that withstands heavy use. EU- and RoHS-compliant products are available individually, with lead wires, or in 10-piece kit.
---
Original Press Release:

Cal Test Introduces a New Family of IC Test Clips Ideally Sized for Today's Electronics


YORBA LINDA, Calif., February l8, 2005 ... Cal Test Electronics, a premier supplier of over 3,000 standard and custom electronic test accessories, announces the addition of the MiniPro(TM) Test Clips, a new family of general purpose IC test clips to its growing family of test accessories. Available in a variety of configurations and colors, and priced as low as $1.35, the MiniPro(TM) Test Clips are just the right size for today's electronic circuits.

Cal Test's new general purpose IC test clips are ideal for both circuit and basic test interconnections. They are a complement to the MicroClip(TM) and MiniFlex(TM) clip families, and feature a smooth, soft touch actuation with high quality gold plated beryllium copper (equivalent) hooks. The MiniPro(TM) IC Test Clips are available in ten (10) colors for easy identification and include a secure snap-lock assembly that holds the clip assembly together under heavy use.

All members of the new MiniPro(TM) IC Test Clip family are in full compliance with the new European Standard, Restriction of Hazardous Substances requirement, Directive 2002/95/EC, which mandates the elimination of selected hazardous substances from electronic products. To show compliance with this directive, Cal Test has added a Grey colored component (a grey cap) to the units.

The MiniPro(TM) IC Test Clips are available in 10 colors for easy identification. They are available individually, with lead wires, or in a 10 piece kit. A brief description of each family member is presented below:

MiniPro(TM) Test Clip. DIY
New Do-it-yourself hook clips for general purpose electronic testing. With a compact size and easy to solder assembly, the clips are ideally suited for today's needs. The clips feature smooth, soft touch actuation with high quality gold plated BeCu equivalent contact hooks and are available in 10 colors for easy circuit identification. The MiniPro(TM) Clips also feature a snap-lock to securely fix the cap to the body.

MiniPro(TM) Test Clip Lead. One End
Build your own test leads with a MiniPro(TM) Test Clip. Durable and flexible PVC jacketed wire.

MiniPro(TM) Test Clip Lead. Each End
Clip to clip test for interconnection testing.

MiniPro(TM) Test Clip Lead Kit
Ten (10) piece MiniPro(TM) Test Clip kit. All ten colors of MiniPro(TM) leads 100cm long. Convenient for all types of testing needs.

MiniPro(TM) Test Clip to 4mm Jack
Attach your MiniPro(TM) Test Clip to a 4mm sheathed banana plug lead. Use with your DMM test lead.

MiniPro(TM) Test Clip to 4mm Plug
Connect to any piece of test equipment with a 4mm banana jack output.

MiniPro(TM) Test Clip to 4mm Sheath Plug
Connect your MiniPro(TM) Test Clip to any standard DMM jack.

MiniPro(TM) Test Clip Coil Lead. One End
Build your own test setup using a MiniPro(TM) Test Clip and a unique retractable lead wire.

MiniPro(TM) Test Clip Coil Lead. Each End
One of our most versatile patch cord products using MiniPro(TM) Test clips. Use for all types of interconnections.

Priced as low as $1.35 for individual units and $38.50 for the 10-piece kit, all MiniPro(TM) Test Clips come with Cal Test Electronics' one-year warranty and are available for immediate delivery.

With over 20 years of experience in the design, development and manufacturing of high-performance, high-quality electronic test accessories for the OEM market, Cal Test Electronics has developed a reputation for excellence. Recognized for their price-performance value, application flexibility, and wide selection of over 3,000 standard and custom products, Cal Test Electronics products are available worldwide.

For additional information, contact Bill Hansen at Cal Test Electronics, 22820 Savi Ranch Parkway, Yorba Linda, California, 92887-4610, Tel: (714) 221-9330, Fax: (714) 921-9849 or visit our Web site at www.caltestelectronics.com

More from Mechanical Components and Assemblies