I/O Modules extend functionality of Power Meter 800.
Press Release Summary: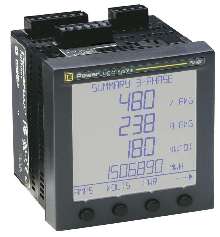 By linking analog and digital I/O inputs to single PowerLogic® PM800 device, users can oversee transformer temperatures, generator fuel levels, equipment status, or usage of utilities such as water and steam. Model PM8M2222 provides 2 digital outputs, 2 digital inputs, 2 analog outputs, and 2 analog inputs, while Model PM8M26 provides 2 digital outputs and 6 digital inputs. Plug-and-play design facilitates installation.
---
Original Press Release:

Plug-And-Play I/O Module from Schneider Electric Offers Advanced Monitoring Capabilities


PALATINE, Ill. - January 30, 2004 - The new Power Meter 800 Input/Output Modules from Schneider Electric extend the functionality of the PowerLogic® Power Meter 800 by increasing the number of parameters available to monitor. By simply linking several analog and digital I/O inputs to a single PM800 device, customers can oversee transformer temperatures, generator fuel levels, equipment status, or usage of utilities such as water and steam. A plug-and-play design makes installation quick and easy.

The new modules offer customers capabilities usually found only in more advanced monitoring equipment, according to Gregg Morasca, director of sales and marketing for Schneider Electric's Power Management Operations. "Our engineers have really extended the capabilities of the PM800 by giving it the ability to monitor so many conditions. I/O modules have generally been reserved for more advanced meters like the PowerLogic CM4000 or the PowerLogic CM3000."

The new PM800 I/O Modules are available in two models - PM8M2222 and PM8M26. The PM8M2222 provides two digital outputs, two digital inputs, two analog outputs and two analog inputs, while the PM8M26 provides two digital outputs and six digital inputs.

PM800 I/O Modules have a variety of uses. Digital outputs may be used to open and close breakers, start or stop motors, or operate other devices and equipment that can interface directly with digital signals. Digital inputs can be used to determine the status of a breaker or read an input synchronous signal from a utility pulsed output. Analog outputs can be used to control valves, motors and heaters in energy management systems. And analog inputs may be used to gather operational data or in proportional control schemes.

The Power Management Organization of Schneider Electric provides a full range of power monitoring hardware and software, lighting control hardware and software, and a variety of engineering services. For more information about the Power Meter 800 Input/Output Modules or the complete line of Square D® power management equipment, contact Schneider Electric at 1-800-392-8781, www.powerlogic.com or help@SquareDinfo.com.

Headquartered in Palatine, Ill., the North American Operating Division of Schneider Electric had sales of $2.7 billion in 2002. The North American Operating Division is one of three geographic divisions of Schneider Electric, headquartered in Paris, France, and markets the Square D, Telemecanique and Merlin Gerin brand products to customers in the United States, Canada and Mexico. In the United States, Schneider Electric is best known by its flagship Square D brand, with Telemecanique becoming increasingly known in the industrial control and automation markets and supported by many Square D distributors. For 100 years, Square D has been a market-leading brand of electrical distribution and industrial control products, systems and services. Schneider Electric is a global electrical industry leader with 2002 sales of approximately $9.5 billion. Visit Schneider Electric at us.SquareD.com, www.us.schneider-electric.com, www.schneiderautomation.com or transparentfactory.com.

More from Controls & Controllers