I/O Modules come with or without injector/ejector handles.
Press Release Summary: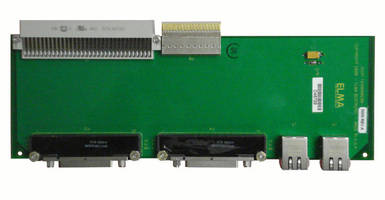 By directly plugging into backplane, Rear Transition Modules offer resistance to shock and vibration. They are available in VPX, VME64x, VME, CompactPCI, and custom architectures in sizes including 3U x 80 mm, 6U x 80 mm, and 8U x 80 mm. Modules are suited for various standardized or custom systems in military/aerospace, medical, industrial, communications, and energy markets.
---
Original Press Release:

Bustronic Offers Wide Range of RTM Solutions



FREMONT, California, Aug. 07, 2009 - Elma Bustronic Corporation, an industry leading designer and manufacturer of high performance backplanes now offers Rear Transition Modules (RTM) in VPX, VME64x, VME, CompactPCI, and custom architectures. These products are designed for various standardized or custom systems in military/aerospace, medical, industrial, communications, and energy markets.

An RTM brings IO signals out the rear side of the backplane. By directly plugging into the backplane, the RTMs offers higher resistance to shock and vibration as compared to a ribbon cable connection style. Possible sizes include 3U x 80 mm, 6U x 80mm, 8U x 80mm and more depending on architecture. The modules come with or without injector/ejector handles. These handles help the board lock securely into place and the panel provides attractive aesthetics. Bustronic has developed a wide range of custom RTM solutions as well as standard architectures.

Bustronic also offers contract assembly and design services for various boards, form factor extenders, adapters, system monitors, and more. The lead-time is 2-3 weeks ARO.

About ELMA BUSTRONIC:
Founded in 1989, Elma Bustronic specializes in the design and manufacture of high-performance backplanes. Elma Bustronic has a complete line of industry-standard backplanes, including CompactPCI, VME, VME64x, H.110 CT, VXI, VXS, and ATCA. Elma Bustronic's custom design service combines creative engineering, highly sophisticated computer simulation and modern design techniques to offer customized backplanes that meet the most specialized system requirements. A member of the ELMA Electronic group, Elma Bustronic is located in Fremont, California. Elma Bustronic is a member of PICMG(TM), VITA, and the StarFabric Trade Association and can be found on the World Wide Web at www.Bustronic.com.

Lorna Singh
Marketing Coordinator
Main: +1 510-656-3400 X10301
Direct: +1 510-683-8301
Fax: +1 510-656-3783
E-Mail: lorna.singh@elma.com
WWW: http://elma.com/us

ELMA Electronic Inc.
44350 Grimmer Blvd.
Fremont , CA 94538
Main: +1 510-656-3400 X10301
Direct: +1 510-683-8301
Fax: +1 510-656-3783
E-Mail: lorna.singh@elma.com
WWW: Directions: http://elma.com/us

Company Contact:
Justin Moll,
Elma Bustronic Corporation
510.490.7388
510.490.1853 fax
e-mail: justin.moll@elmabustronic.com

More from Fluid & Gas Flow Equipment