I/O Modules are for programmable controllers.
Press Release Summary: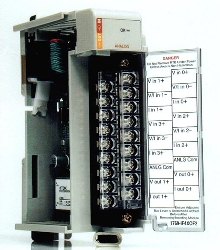 I/O modules work with CompactLogix and MicroLogix controllers. 1769-HSC 1-MHz counter/encoder input module has 4 on-board 5-30V dc sourcing outputs for high-speed applications such as flow, speed, frequency and duration control, and length measurement and positioning. 1769-IF4XOF2 combination analog I/O module has 4 input channels and 2 output channels, with 1 unipolar voltage and 1 unipolar current range.
---
Original Press Release:
Rockwell Automation Introduces Special-Purpose Modules For Packaged Controller Platforms

High-speed counter and combination analog 1/O modules expand CompactLogix and MicroLogix functionality and application flexibility

MILWAUKEE, November 14, 2001 - Rockwell Automation introduced two new specialty I/O modules for its Allen-Bradley CompactLogix and MicroLogix 1500 controller families at Automation Fair, 2001, in Atlanta. The two new modules - one for high-speed counter applications and the other for simple analog control - demonstrate a continued trend toward more functionality in smaller control packages.

"Distributed I/O technology allows us to add high-speed counter and analog modules to small controllers like CompactLogix and MicroLogix 1500," said Ted Wodoslawsky, Manager of Strategic Marketing, World Class Products, Rockwell Automation. "As a result, these low-cost controllers become more valuable in a wider variety of applications, including packaging, material handling and consumer goods manufacturing," Wodoslawsky added.

The Allen-Bradley 1769-HSC is a 1-MHz counter/encoder input module that features four on-board 5 to 30V dc sourcing outputs designed for high-speed applications such as flow, speed, frequency and duration control as well as length measurement and positioning. The module can simultaneously interface with a maximum of two quadrature incremental encoders or four single-input count inputs from devices such as proximity sensors, photoelectric sensors, single-pulse output encoders or similar products for monitoring counting, flow or frequency.

The Allen-Bradley 1769-IF4XOF2 combination analog l/O module is designed specifically to accommodate applications requiring a small amount of analog I/O functionality. The module features four input channels and two output channels, and offers one unipolar voltage and one unipolar current range for both inputs and outputs. It also features 8-bit (127 counts/step change) resolution for both input and output channels, as well as the ability to configure each channel individually for 0-1 OV dc or 0-20 mA by proper wiring of the I/O device to the module.

The 1769-HSC module and 1769-IF4XOF2 module can both reside in the same I/O chassis as all of the more than 15 Allen-Bradley 1769 I/O modules. In addition to compatibility with the CompactLogix and MicroLogix 1500 controllers, both modules also work with the Allen-Bradley Series B 1769-ADN DeviceNet Adapter. This allows the modules to be used as distributed I/O, even with other companies' controllers.

At Automation Fair, one of the automation industry's largest expositions dedicated to manufacturing controls and systems, Rockwell Automation also showcased other key new products in its wide range of small controller solutions, including the following:

* The Allen-Bradley Pico - an ultra-miniature controller designed with ease- of-use in mind. It performs simple logic, timing, counting and real-time clock operations without the need for special software. New expansion I/O capability and expansion I/O blocks have been added to the 18 I/O controllers. .

* The Allen-Bradley CompactLogix 5530 Programmable Controller with Compact I/O - part of a complete system-level control architecture that uses the same control engine as other members of the Allen-Bradley Logix family. Combined with Allen-Bradley Compact I/O, the CompactLogix controller delivers a low-cost, flexible control system that supports as many as 16 I/O modules and up to 256 local I/O points.
* 1769-SDN DeviceNet Scanner Module - provides DeviceNet master functionality for MicroLogix and CompactLogix controllers . Ethernet® Interface Module for MicroLogix - allows all MicroLogix and CompactLogix controllers to take advantage of the speed and flexibility of the Ethernet/IP protocol for factory floor networking.

Rockwell Automation (NYSE: ROK) is a world-leading provider of industrial automation power, control and information solutions that help customers meet their manufacturing productivity objectives. The company brings together leading brands in industrial automation for Complete Automation solutions, including Allen-Bradley® controls and engineered services and Rockwell Software® factory management software, Dodge® mechanical power transmission products, Reliance Electric motors and drives. The company also is a leading provider of contact management technologies and applications that help companies more efficiently manage interaction with their own customers. Headquartered in Milwaukee, Wis., USA, the company employs approximately 23,000 people at more than 450 locations serving customers in more than 80 countries. For more information on the CompactLogix and MicroLogix families, please contact the Rockwell Automation Response Center, 10701 Hampshire Avenue South, Bloomington, Minn., 55438, 800.223.5354, Ext. 1489.

More from Controls & Controllers