I/O Devices and Timing Boards offer channel-channel isolation.
Press Release Summary: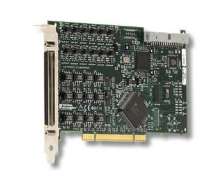 Model PCI-6528 and CompactPCI/PXI-6528 digital I/O devices feature up to 60 Vdc range on inputs and outputs, 5 V logic thresholds, and isolated input/output to PXI trigger bus. They include programmable power-up states, digital I/O watchdogs, change detection, and programmable input filters. Model PCI-6624 counter/timer board features 48 Vdc range and 5 V logic thresholds, as well as isolation to protect electronics from transient voltage spikes.
---
Original Press Release:

National Instruments Isolated Digital I/O and Timing Devices Deliver Advanced Features for Industrial Applications


AUSTIN, Texas - Feb. 24, 2004 - National Instruments (Nasdaq:NATI) today announced three new high-performance, channel-to-channel isolated digital I/O and timing devices. The NI PCI-6528 and NI CompactPCI/PXI-6528 digital I/O devices, and the NI PCI-6624 counter/timer board, deliver advanced capabilities and a high-reliability industrial feature set ideal for automotive, aerospace, industrial monitoring and control applications.

The PCI-6528 and CompactPCI/PXI-6528 advanced digital I/O devices feature channel-to-channel isolation, up to 60 VDC range on both inputs and outputs, 5 V logic thresholds and isolated input/output to the PXI trigger bus (RTSI). These devices deliver a high-reliability industrial feature set that includes programmable power-up states, digital I/O watchdogs, change detection and programmable input filters. Engineers can use these features for the safe operation of potentially dangerous actuators such as industrial pumps, valves and motors.

The PCI-6624 counter/timer board also offers channel-to-channel isolation and extended voltage ranges, which make it ideal for connecting directly to high-voltage industrial devices at different ground potentials. The board features a 48 VDC range and 5 V logic thresholds, as well as isolation to protect the electronics from transient voltage spikes. Isolation also provides greater common-mode noise rejection in electrically noisy environments containing machinery and inductive loads. These features are useful for frequency/period measurements and pulse-train/pulse-width module signal generation applications in systems with digital sensors, valves, solenoids, heaters and relays.

Each new device offers a fully software-configurable, jumperless setup and works with new NI-DAQmx software technology, which includes automatic code generation for creating applications in NI LabVIEW 7 Express, C, and Microsoft Visual Basic .NET and C#. Engineers can quickly take measurements by using NI DAQ Assistant to guide them to fast, accurate data without requiring any programming. NI-DAQmx also offers multithreading streaming technology as well as other advanced features including automatic timing, triggering and synchronization.

About National Instruments
National Instruments (www.ni.com) is a technology pioneer and leader in virtual instrumentation - a revolutionary concept that has changed the way engineers and scientists approach measurement and automation. Leveraging the PC and its related technologies, virtual instrumentation increases productivity and lowers costs for customers worldwide through easy-to-integrate software, such as the NI LabVIEW graphical (development environment, and modular hardware, such as PXI modules for data acquisition, instrument control and machine vision. Headquartered in Austin, Texas, NI has more than 3,000 employees and direct operations in 40 countries. In 2002, the company sold products to more than 25,000 different companies in more than 80 countries around the world. For the past five consecutive years, FORTUNE magazine has named NI one of the 100 best companies to work for in America. Readers may obtain investment information from the company's investor relations department at (512) 683-5090, by sending e-mail to nati@ni.com or on the Web at http://www.ni.com/nati.

Pricing and Contact Information
NI PCI-6528, NI PXI-6528, NI PCI-6624 devices
Priced from $595
11500 N Mopac Expwy, Austin, Texas 78759-3504
Tel: (800) 258-7022. Fax: (512) 683-9300
Web: www.ni.com/dataacquisition
E-mail: info@ni.com


More from Agricultural & Farming Products