Hytrel-Lined PVC Tubing suits food/industrial applications.
Press Release Summary: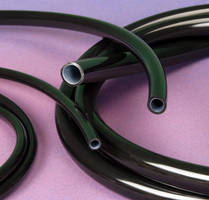 Manufactured from FDA-approved ingredients for use with food contact surfaces, Hytrel-lined PVC tubing is odorless, tasteless, and inert and offers low permeability of refrigerant gases and hydrocarbons. Hytrel liner resists chemical attack and adherence of particulates, while black PVC jacket provides shock, abrasion, UV resistance, and helps insulate tubing from EMI. Tubing is available in 170, ¼, and 3/8 in. ID sizes, as well as in custom sizes and cut-to-length pieces.
---
Original Press Release:

PVC Tubing Lined with Hytrel® Combines the Properties of Two Durable Materials



Suitable for Both Food and Industrial Applications

Southampton, PA - Hytrel-lined PVC tubing, designed to provide the flexibility and durability of PVC with the unique properties of Hytrel, is now available from NewAge Industries.

The tubing is useful in applications where different performance is needed for the inside and outside of the tube, such as Hytrel's oil resistance in a harsh environment where the durability of PVC is called for. Typical uses include air sampling, computer equipment, appliances and vending machines, lawn and garden equipment, propane gas delivery, and general fluid transfer.

Hytrel-lined PVC tubing is manufactured from FDA-approved ingredients for use with food contact surfaces and is odorless, tasteless, and inert. It offers low permeability of refrigerant gases and hydrocarbons and resists ozone, moisture, and U.V. The Hytrel liner also resists chemical attack and the adherence of particulates.

The tubing's black PVC jacket provides flexibility along with shock, abrasion, and U.V. resistance. It helps insulate the tubing from electronic interference as well.

Hytrel-lined PVC tubing is manufactured to ensure a molecular bond between the two materials, making a virtually inseparable product. NewAge Industries stocks the tubing in three popular sizes: .170", ¼", and 3/8" I.D. Custom sizes and cut-to-length pieces are available. The company also stocks a variety of fittings and clamps to mate with Hytrel-lined PVC.

About NewAge Industries and AdvantaPure®

In business since 1954, NewAge Industries manufactures and fabricates thermoplastic and thermoset tubing and hose. The company offers one of the broadest product lines of tubing, hose, and fittings in the U.S., and its custom extrusion and fabrication services are unrivaled. NewAge Industries maintains an inventory of over ten million feet of tubing and hose and prides itself on same-day shipment of 98% of orders for its core product lines. In 2006, NewAge initiated an ESOP (Employee Stock Ownership Plan) for the benefit of both its employees and customers.

The AdvantaPure division of NewAge Industries specializes in clean products for the pharmaceutical, biomedical, food, beverage, chemical, and cosmetic industries. All products are manufactured, stored, and shipped using the cleanest methods possible to ensure unsurpassed product purity.

For more information on Hytrel-lined PVC tubing, contact the Fluid Transfer Specialists® at NewAge Industries, Inc., 145 James Way, Southampton, PA 18966; phone 800-50-NEWAGE (800-506-3924) or 215-526-2300; fax 800-837-1856 or 215-526-2190; e-mail: [email protected]: online at http://www.newageindustries.com/hytrel_tubing.asp