Hygroscopic Air Vent fits under baseboard covers.
Press Release Summary: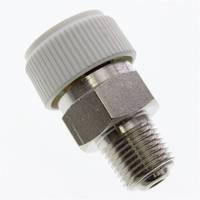 Model 508 can be set for manual or automatic venting of water radiators. Cartridge contains hygroscopic discs that can be replaced without draining heating unit. Discs expand more than 50% in volume when soaked with water to seal off air vent passage within seconds. When water is removed, discs dry out and contract to original volume. Vent offers max working pressures of 15 psig (steam) and 50 psig (water). Applications include baseboard, steam, and hot-water radiators and convectors
---
Original Press Release:
Hoffman Specialty Introduces the New Model 508 Hygroscopic Air Vent
Chicago, IL - September 24, 2002-- Hoffman Specialty has introduced the new Model 508 Hygroscopic Air Vent for use on baseboard, steam or hot water radiators and convectors. An updated and lower priced replacement for the current Model 500 Air vent, the 508's compact, low profile design allows it to fit under the cover of the baseboard and makes it ideal for a variety of applications. The vent can be set for manual or automatic venting of water radiators by simply turning the fiberglass knob cartridge portion of the vent. Since the cartridge also contains the hygroscopic discs, they can be easily replaced without draining the heating unit. The 508 Vent uses the hygroscopic principle, a simple, standard method of automatically bleeding air from heating systems. The principle works on the basis of cellulose fiber discs changing volume between their dry and water soaked state. The discs expand more than 50 percent in volume when they become soaked with water. The expanded discs seal off the air vent passage within a few seconds. When the water is removed, the discs dry out and contract to their original volume, thus reopening the air passage. Drying time depends on the temperature. Other features of the 508 Hygroscopic Air Vent include: o Brass body - chrome plated o Hygroscopic disc-type vent o Built-in check ball valve o 1/8" NPT straight male shank o Automatic or manual venting of water systems o Automatic venting of steam systems o Maximum working pressure o Steam - 15 psig (1.0 bar) o Water - 50 psig (3.5 bar) o Maximum working temperature - 230°F (110°C) Hoffman Specialty, a unit of ITT Industries, is a leading manufacturer of steam traps, regulators and valves for residential, commercial and industrial applications. For more information about the company's products or services, or a copy of the new catalog, contact Hoffman Specialty, 3500 N. Spaulding Avenue, Chicago, IL 60618; phone (773) 267-1600; fax (773) 267-0991. Or visit them on-line at the Hoffman Specialty website at www.hoffmanspecialty.com.
More from Sensors, Monitors & Transducers