Hybrid Transistor suits PFC and high-power applications.
Press Release Summary: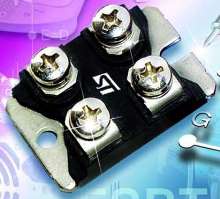 Supplied in screw-mounted ISOTOP package, 4-terminal STE50DE100 hybrid emitter-switched bipolar transistor sustains collector-source voltage of 1,000 V and collector currents up to 50 A. Power dissipation is 160 W at 25˚C and max operating junction temperature is 150˚C. Due to cascode configuration and dedicated bipolar technology, device offers square reverse bias safe operating area, enabling it to work in hard switching topologies.
---
Original Press Release:

Hybrid Emitter-Switched Transistor from STMicroelectronics Combines Bipolar and MOSFET Advantages in Very High Power Applications


Reduces power dissipation in heating, welding and power factor correction applications

Geneva, December 10, 2004 - STMicroelectronics (NYSE: STM) has introduced a hybrid emitter-switched bipolar transistor (ESBT), designed for use in welding equipment, induction heating systems and power factor correction for audio amplifiers.

The STE50DE100 sustains a high collector-source voltage of 1000V and collector currents of up to 50A. The four-terminal device is supplied in an industrial tailored screw-mounted ISOTOP package.

It is designed to combine the strengths and eliminate the drawbacks of both bipolar and MOSFET technologies.

Power Bipolar technology to date has been used in power switching applications at frequencies well below 70kHz. Its low collector-emitter saturation voltage brings the benefit of low conduction losses. Its drawbacks however, include slow switching speeds, the need for high currents from driving circuitry and problems related to fine-tuning this circuitry.

In contrast, MOSFET technology is widely used in high-frequency power switching applications. The main benefits of the MOSFETs are the high switching speed capability and the need for very low current from its driving circuitry. Drawbacks of the technology include its higher cost compared to bipolar technology, and high power consumption during conduction.

By combining the benefits and removing the drawbacks of both technologies, STE50DE100 helps reduce the conduction losses to the same level as those of a bipolar part, while offering good performance in high-speed switching at up to 150kHz as for MOSFETs.

In addition, thanks to its cascode configuration and dedicated bipolar technology the device offers a square reverse bias safe operating area, enabling it to work in hard switching topologies.

The rugged ISOTOP allows the device to sustain a very high total power dissipation of 160W at 25˚C. Maximum operating junction temperature is 150˚C and the insulation withstand voltage is 2500V AC-RMS. Pricing is US$20 in quantities of 1000 pieces.

About STMicroelectronics

STMicroelectronics is a global leader in developing and delivering semiconductor solutions across the spectrum of microelectronics applications. An unrivalled combination of silicon and system expertise, manufacturing strength, Intellectual Property (IP) portfolio and strategic partners positions the Company at the forefront of System-on-Chip (SoC) technology and its products play a key role in enabling today's convergence markets. The Company's shares are traded on the New York Stock Exchange, on Euronext Paris and on the Milan Stock Exchange. In 2003, the Company's net revenues were $7.24 billion and net earnings were $253 million. Further information on ST can be found at www.st.com.

STMicroelectronics, Inc.
Lexington Corporate Center
10 Maguire Road
Bldg. 1, 3rd Floor
Lexington, MA 02421
(781) 861 2650
www.st.com

More from Electrical Equipment & Systems