Hybrid Gears solve noise and premature failure issues.
Press Release Summary: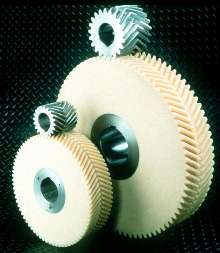 Power-Core(TM) Gears feature crystalline, non-hygroscopic, composite material that is gravity-cast around metal core. Gear teeth are hobbed into outer plastic portion of gear material. Bore machined into metal core secures temperature-resistant, metal-to-metal shaft connection. Metal core helps restrain thermal expansion of plastic portion of gear. It comes in carbon steel, stainless steel, or aluminum with OD from 0.75-8 in. in 3/8 in. increments.
---
Original Press Release:

Cast-In Metal Core Handles Higher Gear Torque & Higher Temperatures to Solve Noise and Premature Failure


Closter, NJ: Attaching plastic gears to a shaft, a weakness inherent in all-plastic gears, has been solved by Intech Power-Core(TM) by casting a non-hygroscopic, durable composite gear material around a sturdy metal core.

High torque forces on the keyway cut into standard plastic gears can cause material flow, resulting in a loosening of the gear from the shaft. Another common gear failure of all-plastic gears is thermal expansion. During operation in elevated temperatures caused by high torque or pitch line velocity, the gear expands and the fit between gear, shaft and the keyway loosens, creating less secure, wobbling connection that causes the standard plastic gear to fail.

Intech Corporation offers a proprietary hybrid gear design that features a sturdy composite material which is gravity-cast directly onto a rugged knurled metal core. The highly crystalline, non-hydroscopic stress-free Power-Core gear material is specifically engineered to offer high performance tensile and flexural properties over a wide range of operational conditions. Gear teeth are hobbed into the outer plastic portion of the gear material.

A bore machined directly into the Power-Core metal core secures the high torque, temperature-resistant, metal-to-metal shaft connection that enables the designer to attach the composite gear using traditional metal gear methods including keyway, OD-bushing, press fit, expandable bushing, etc.

In addition to a secure attachment, the metal core restrains thermal expansion of the plastic portion of the gear by up to 50%, which in turn further reduces required backlash (the backlash provision for gear growth due to swelling and moisture is not required), providing for more accurate and quieter gears. When compared to all-plastic gears, or gears with bolted or pressed-in metal hubs, machined Intech Power-Core gears average 3dB quieter and typically rank in a higher AGMA class.

The metal core is available in carbon steel, stainless steel, or aluminum with OD from 0.75" up to 8 inches in 3/8" increments. The choice of the core material is dictated by the gears' operating specifications or the environment. For corrosive or clean room environments, stainless steel is preferred. To reduce inertia (for example as in stop and go applications), or to reduce weight, an aluminum core is selected. For high temperature applications, Intech engineers will design a gear with a maximum core OD to dissipate the heat.

The metal core also facilitates gear machining. A gear blank mounted directly onto an arbor of the hobbing machine enables a precision bore to be cut into the metal, serving as the reference point for the gear's critical dimensions- and making it possible to precisely control the pitch diameter, backlash and runout.

Intech Power-Core gears feature a metal core for all gear types including spur, helical, herringbone, bevel, spiral bevel, worm gears, etc. Intech engineers, using unique algorithms, provide wear and durability calculations for the gears,.

For more information, contact Georg Bartosch; Intech Corporation;
250 Herbert Avenue; Closter, NJ 07624; 201-767-8066. www.intechpower.com.

More from Machinery & Machining Tools